Wednesday - June 04, 2008
By Kerry Miller

Movies Showtimes
Share

Chris Lee
Director of the UH Academy for Creative Media
As Told To Kerry Miller
Where and with whom did you see the movie?
I saw it in Los Angeles (where I'm working on the final scenes of Valkyrie) at Arclight Theater. It's very famous for having good sound. I saw it with my friends Leo Chu and Eric Garcia, they're both alumni from the Disney Company and now they do animation and a lot of the Pixar movies.
Overall, what did you think?
I think it's a lot of big, old-fashioned fun.You get to see all those people up on the screen. It was close in spirit (to the other Indiana Jones movies). I compared it most to the third one.
Compared to the other Indiana Jones films, how does this one rate?
Well, definitely the first one was the best and then I'd probably put this one on par with the two sequels. I did enjoy the motorcycle chase - that's where I went to college. I kept saying to Leo,"That was my dining hall."
At 65, is Harrison Ford too old to be playing this role again?
Well, I think they worked that into the plot and they don't try to hide the fact that he's that age. It was great to see him and Karen Allen together.
What about Shia LaBeouf, is he believable as the son of Indiana Jones?
He's great. He can pretty much do anything. He helped to bring in kids who weren't even alive when the first movie came out. I think he was well-cast.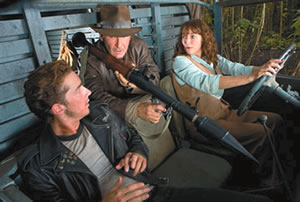 What about the acting, did anyone stand out?
You know, as I said, it's like coming home and seeing old friends.They (the main characters) haven't changed as people. I think it's very comforting in that respect.
On a scale of one to four stars, what would you rate this movie?
I'd give it ★★★.
To whom would you recommend this movie?
It's definitely a family film. Oddly enough it plays more for an older demographic - for people who remember the movies when they were younger.
Favorite movie snack?
Yes, it's really bad, but I really love popcorn. I have to have a hot dog with jalapenos on it and mustard and ketchup.
What's your favorite type of movie to watch?
You know, I have a pretty broad range of interests. I'm a film-maker, first of all. I don't think I would exclude any type of film. I'm one of those people who go to the theater and jump in and out of theaters. I'm really happy there's Netflix now (because) a lot of films don't come to Hawaii.
What's new?
We are finishing up Valkyrie now. It's great and I'm really excited. It will be out in February 2009. That and (UH film) school remain my focus.The kids are doing great; we have more graduates than ever.
Most Recent Comment(s):