Wednesday - September 02, 2009

Movies Showtimes
Share

Lt. Jamie Nelson
VP-47 Naval Non-Flight Officer, 200 Division Officer
Where and with whom did you see the film?
I saw it at Windward Mall. I went with a group of about 10 people from my squadron.
Overall, what did you think?
I actually really liked it. It was definitely a different twist on any other Nazi film you would see. I thought it was pretty good.
On a scale of one to four stars, how would you rate this movie?
I would probably give it ★★★ because I thought it was really well-written with great humor and action, but it was three-and-a-half hours long! I felt like it dragged on at parts, but all in all I thought it was a good film.
To whom would you recommend this movie?
I would recommend this movie to any adult, definitely not kids. But I don't know that I'd recommend many Tarantino films to children anyway.
What about the acting? Did anyone stand out?
I thought that Brad Pitt was the funniest character because here are all these uppity Germans and Frenchmen and he's from Tennessee with this heavy Southern accent.The biggest antagonist, this higher-up security officer-type in the Nazi party, was a really good actor, too.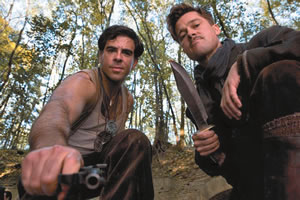 What did you think of the soundtrack? Did the music enhance the film or any particular scene?
It was classic Quentin Tarantino music. Toward the end there is this Nazi movie premiere going on and the theater is actually owned by this Jewish girl whose family was killed by the Nazis, and then she comes up on the screen and the soundtrack at that moment was perfect.The music overall just added to the suspense and intensity of the movie.
Did the movie remind you of any other films you've seen in the past?
It didn't really remind me of anything I've seen. Other movies usually portray the historical, serious side of the Nazi era, but this one added humor and focused more on a sort-of Hollywood perspective from the time period.
Would you buy the DVD?
I don't know if I'd buy it. I think it's one of those that if you see it once or twice you're good. It's like Black Hawk Down and We Were Soldiers - they were really good, but not something I need to watch over and over.
Were there any characters with whom you felt you identified?
This British actress who ended up being a spy against the Nazis was really tough and willing to go out on a limb in a time when women weren't regarded as tough like that, and with me being in the military, in a male-dominated profession, I felt I could relate to her situation.
So what's new with your squadron, VP-47?
Our Navy ball is coming up on Oct. 17, but other than that, that's all we've got going right now aside from preparing for deployment. We're pretty busy with that right now.
Most Recent Comment(s):