Wednesday - February 04, 2009
By Kerry Miller

Movies Showtimes
Share

Meagan Olson
Artistic director for PACK (Performing Arts Center of Kapolei)
as told to Kerry Miller
Where and with whom did you see the movie?
I saw it with my son Thomas, 11, and my daughter Hannah, 15, at the Kapolei Consolidated Theaters.
Overall, what did you think?
I really enjoyed the movie. It had different twists that I didn't expect.
What about the acting, did anyone stand out?
Brendan Fraser is always awesome. It wasn't like his Mummy character; it was a little more serious. He's always a joy to watch. Paul Bettany, who played Dust Finger, was good. He was the naked guy in A Knight's Tale. The little girl was good, too.
Inkheart is based on the novel by Cornelia Funke. Have you read the book? If so, how does the movie compare to it?
I didn't read the book, my son did. He said it was kind of backwards, the way they did things in the movie. He said they skipped so much stuff.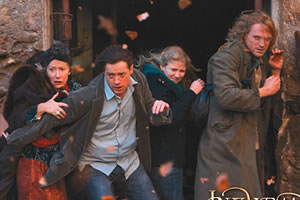 Did Inkheart have good special effects or cinematography?
You know, I'm such a harsh critic of movies because I do theater, but nothing looked fake. It was quite beautiful. The cinematography was really pretty, I thought. Wherever they shot it at was beautiful country, a lot of outdoor landscape. It was a fun movie.
What was one of your favorite scenes?
(Thomas and Hannah liked) the battle at the end when the shadow, the evil shadow, came. That actually had some pretty cool special effects with the cloud.
On a scale of one to four stars, what would you rate this movie?
At least ★★★ to ★★★ 1/2.
To whom would you recommend this movie?
Families, definitely a family movie - clean, no super, super scary parts, nothing for little children to be terrified of.
Did this movie remind you of another work or film?
No, which was really neat. Thats why I liked it, it wasn't predictable. It was different than the magic movies or the love movies.
Would you buy this movie on DVD? Definitely.
What's new?
We're in production of Into The Woods combined with Read It Loud with Chip & Cookie with Wally Amos. We're promoting reading through the show, having guest readers who come and read in intermission. Opening March 13, we're running for three weeks. I'm the director.. We're doing the Barnes & Noble book fair Feb. 28 and March 1 at the Ala Moana Barnes & Noble. (For more information on PACK or the events mentioned, visit www.packapolei.org)
Most Recent Comment(s):