Wednesday - April 05, 2006

Movies Showtimes
Share

Inside Man
Movie Review with Rick Ornellas
Retired HPD detective, Honolulu Police Relief Association, Realtor
As Told To Rasa Fournier
Where and with whom did you see the movie?
At Kahala Theater with my wife, Lehua, and my mother-in-law Nani Skalar.
Overall did you like the movie, and why?
It was well done. The movie was excellent, excellent. And I'm very critical when it comes to the genre of police films.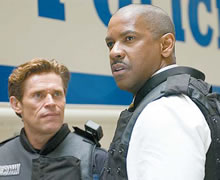 Did you have any favorite scene(s)?
My favorite scene,as it ties everything together, was almost at the end when the main suspect (Clive Owen), the man who pulled off this "perfect crime," is leaving the bank, and Denzel Washington is coming up the stairs with his partner and they bump into each other.That's pretty much when everything ties in. (Warning: possible spoiler.) It's hard to say that's my favorite scene because that one scene ties into an end scene when Denzel discovers that there's a diamond in his pocket. It all goes back to when he's talking to the suspect, vis-à-vis they're face -to-face in the bank and they're talking about how money is not that important, and Denzel is telling him, "Well, I can't really afford anything in the form of a diamond ring,I mean these things cost money."And the suspect says,"Well money isn't everything." That's where the bump at the top of the bank stairs ties into one of the last scenes where Denzel finally hooks up with his girlfriend and they're in the bedroom. And that ends the film, which leads to, it looks like,a sequel.What a film! It keeps your attention throughout the whole movie. Not too many films do that for me.I loved the film.Thank god this isn't like V for Vendetta.That was terrible.Even the one with Bruce Willis (16 Blocks) wasn't that great, but this one ... Wow! It was well-done.
Did you have a favorite character?
My favorite character ended up to be the suspect (Clive Owen), because of the way the film was done and what he represented. Like my wife said, this whole thing is about war crimes. It's about crimes that took place in Germany. This movie was so well-done. I walked out of there and I said, "Wow, that's a film."
How would you rate the acting?
The chemistry between all of the actors was fabulous.Spike Lee did an excellent job in casting because the chemistry was really evident. Everything was so smooth. You know who else did an excellent job and that's part of the chemistry - Jody Foster. She was good. Jodie Foster was excellent.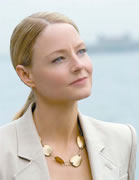 What were the best/worst aspects of the movie? Why?
The best aspect was that it kept your attention. There wasn't a lag. There wasn't a dull moment or a dull scene.It just kept moving right along.
To whom would you recommend this film?
It wouldn't be for young children because they wouldn't understand all of the aspects that took place. I would recommend this to anyone in their 30s, 40, 50s and up, any kind of white collar or blue collar person. And I'm going to reiterate, this was an excellent film, and I see a lot of films.
In a four star rating, with four being the highest, what would you and your companions rate this film?
Four stars, no question.
What is your favorite movie?
Good question,how much time you got? The Death Wish movies with Charles Bronson. Meet Joe Black, the one where Bruddah Iz sings Somewhere Over the Rainbow at the end - that's one of my favorites,along with the Death Wishes and Rambo.Oh,I have tons,but Meet Joe Black, I'd watch that over and over again.
Would you watch Inside Man again?
Shucks, yah! In a minute, in a heartbeat.
What genre of movies do you like?
I like action and comedy. I like a wide range.
Who is your favorite movie buddy?
My wife! I mean, I'm married ... who else am I gonna say, Don Chapman? He's sweet, but no, my favorite movie buddy is my wife.
What's your favorite movie snack?
My wife doesn't allow me to eat anything in the film. I'm not allowed to snack in the cinema anymore until I lose 30 pounds (laughs).
How often do you go to the movies?
At least, minimum, once a week.
Do you have a favorite actor/actress?
I like Anthony Hopkins.
Anything else you want to say about the movie?
It was an excellent film. Go see it, but pay careful attention to all of the little details and the conversation between the suspect and Denzel Washington when they're meeting face to face.
What's new with you?
I'm still selling real estate for Mary Worrall Associates.I'm on the board of the Honolulu Police Relief Association.We take care of insurance for members of the police department, for employees of the police department. And I just became a grandfather again.
Next week: a new movie, a new celebrity
Most Recent Comment(s):