Wednesday - July 04, 2007
By
.(JavaScript must be enabled to view this email address)

Movies Showtimes
Share

Introducing The Dwights
Louise King Lanzilotti
Managing Director of Honolulu Theatre for Youth
As Told To Melissa Moniz
Where and with whom did you see the movie?
I saw the movie at Ward Theatres with my daughter.
Overall what did you think?
I really liked it.
I like independent films because it often gives an intimate look into people's lives. I liked this one.
Did you have a favorite scene?
I don't want to give anything away about the movie, so how do I say this? I think there were several moments in which the movie dealt with relationships in a humorous or very dramatic way.There were several scenes that really focused you on the relationships with the family members. But a particular scene? There's a climactic scene in which the whole family has to deal with itself and it's funny, serious, and makes you cry and laugh at the same time.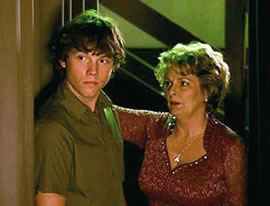 Did you have a favorite character?
Well Brenda Blethyn, who plays the lead, is an amazing actress. And she is one of the few people who could have pulled that role off well. She has no fear of appearing ridiculous or not flatteringly beautiful. She just gets out there and she's a wonderfully brave actress. She was marvelous. The entire cast was well-picked.
Did the movie have a deeper meaning
adults or even children?
I think young adults or older. Some of it is about the son's awakening into adulthood. So there was sexuality.
On a four star rating with four being the highest, what would you rate the film?
I would give it three stars. I liked it a lot.
Was this the best film you have seen this year?
Maybe not the best film, but of its kind. It was a quirky, positive film.
What type of audience do you think would enjoy this film?
I think people who are interested in independent film or people interested in foreign films.
What's your favorite movie snack?
Popcorn, no butter.
Who is your favorite actor/actress?
That's a hard question.Well, one of my favorite actors is Robert Duvall. I have a lot, though.
What is your favorite movie of all time?
This another independent film, and it's called Tomorrow. And he's (Robert Duvall) in it, speaking of my favorite actor. It's an old movie. It's 30 or 40 years old actually.
What's new?
My strange career? Let me see.Well we're are getting ready for our new season. I'm excited about it. I'm getting ready for a short vacation this year. But mostly I'm just working hard for the arts and making sure that the arts stay in our consciousness in America and in Hawaii.
Next week: a new movie, a new celebrity
Most Recent Comment(s):