Wednesday - October 26, 2011
By
.(JavaScript must be enabled to view this email address)

Movies Showtimes
Share

Burton Richardson
Founder of Jeet Kun Do Unlimited, Jeet Kun Do Master
Where and with whom did you see the movie?
I watched it with my wife, who is also a martial artist. She's really something.
Overall, what did you think?
Overall, I thought it was a decent movie. As far as a kung fu movie goes, my main recommendation would be to go see this movie if you like kung fu movies. The reason being, it's a little deeper than most kung fu movies. There's a philosophical aspect and moral that they had running through the movie that I enjoyed martial artsrelated and life-related. The fight scenes are kung fu-like, but they're based on Ip Man's style of Wing Chun. They're a little different than most kung fu fight scenes.
First, of all, I think people should know that it's not Donnie Yen this is the prequel, and so it's a different actor. The subtitles sometimes had too much text and went too fast, so you have to read pretty quickly. And as far as people who are mildly interested in martial arts, there's also a nice little love story. As a movie, it's OK. The other Ip Man movies were better, they had better story lines.
On a scale of one to four stars, what would you rate this film?
★★1/2 for a kung fu movie.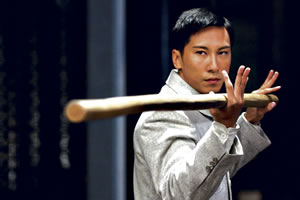 Without giving away the ending, what was one of your favorite scenes?
I would say my favorite scene is when he meets the old master. It was very well done, and I was happy to see that there's comedy involved.
Did it remind you of any other work in film?
No particular movie, but it wasn't like the great kung fu movies like Hero. It was nowhere near that level, but it was better than your average kung fu movie.
Who would you recommend this movie to?
People who love kung fu movies, or Wing Chun kung fu practitioners.
Did any of the actors stand out?
The old master was fantastic. It's worth watching just to see that little guy. It's a pretty serious movie, and he pops up and it's so funny.
Did you identify with any of the characters?
It was nice seeing it reflect in my personal life. I've trained martial arts for more than 30 years, and the lead character did something where he went out and started studying other styles, and people in the orignal style didn't like it.
I'm one of the top Jeet Kune Do instructors in the world. One of my trainers was Bruce Lee's best friend and training partner, and Bruce Lee studied under Ip Man. I also studied Wing Chun with one of Ip Man's top personal students. I was also a fight choreographer in Hollywood and trained Bruce Lee's son.
On a different note, what's new with you?
I'm head coach for Chris Leben, and he's fighting in UFC 138 Nov. 5 in Burmingham, England. And I'm just finishing up my new book The Blueprint to Modern Self-Defense. It's functional self-defense, and the philosophies and principles in the book you can take and apply to everyday life. This will be my fouth book I published.
Richardson's website is jkdunlimited.com.
Most Recent Comment(s):