Wednesday - May 14, 2008

Movies Showtimes
Share

Audra Furuichi & Scott Yoshinaga
Producers of the online webcomic Nemu-Nemu
As Told To Kerry Miller
Where did you guys see the movie?
Scott: The Ward Cinemas.
Overall, what did you think?
Audra: I thought it was a really awesome movie.
Scott: The best movie I've seen in a long time.
How well were the actors cast, in your opinion? Did they fill the roles well?
Audra: I'm not familiar with the Iron Man saga.
Aside from recognition of the character names, Robert Downey Jr. had good balance, or charisma, and cockiness,and the supporting cast did their parts well.Scott: At first I thought 'Robert Downey Jr. was going to play Iron Man?' I was kind of put off by it,but the more I thought about it,in the comic book he was an alcoholic, and Robert Downey Jr. was. It kind of made me think maybe he is the right guy for the role. He had the smoothness, cockiness and confidence. He just fit the role like a glove.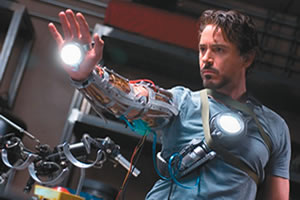 How does the movie compare to the comic story of Iron Man?
Scott: It was very similar. All the characters were there, and they did a good job staying with the actual comic book. His friend Rhodey was in there. It's a slightly different take than the comic book,but I wouldn't have expected it to be exactly like the comic.The technology aspect blew me away. I'm looking forward to the sequel.
There are certain scenes that, if you are really a fan of Iron Man, you'll pick up on these things if you see the movie, stay until the very end, at the end of the credits.
Was there a good balance of action and character development?
Scott: I think a lot of time when there's a superhero movie,from a comic to the movie, the first is kind of drawn out. I didn't feel like that in this movie. The action was shot really well and great storytelling.
Is this a kid's movie or more for adults?
Audra: I think, from how I view it, it might be better suited for the older teen crowd. It doesn't really have a lot of violence or blood and gore.There is more adult-oriented content.
On a scale of 1 to 4 stars, what would you rate this movie?
Audra: ★★★1/2 to ★★★★.
Scott: Definitely ★★★★.
Who would you recommend this movie to?
Scott: Anybody who's a fan of the comic book would love this.I think also anyone who's into gizmos.
Favorite movie snack?
Audra: I'm a popcorn kind of girl.
Scott: I like nachos.
How often do you go to the movies?
Scott: Never.This movie was one of the ones I said 'We must go see it when it comes out.' We're usually people who rent Netflicks.
What's new?
Audra: We do a web comic every Monday, Wednesday and Friday,www.nemu-nemu.com. I recently went to Le Jardin in Kailua for a daylong comic book talk. This summer I'm going to be at libraries as a guest speaker. At the end of this month, we have big anime convention in San Jose.
Most Recent Comment(s):