Wednesday - May 19, 2010
By
.(JavaScript must be enabled to view this email address)

Movies Showtimes
Share

Brian Keaulana
Professional Stuntman and Founder, C4 Waterman
With whom did you see the film?
I saw it with my wife Nobleen.
Overall, what did you think?
I thought it was good, but as always, you kind of want more.
On a scale of one to four stars, what would you rate Iron Man 2?
Because I'm an action person - a stuntman and all - I enjoyed the action scenes a lot, so I'd give it ★★★ 1/2.
What about the acting? Did anyone stand out?
Oh man! Mickey Rourke, who played the bad guy (Ivan Vanko), was just the best villain. He and Robert Downey Jr. carried it (the film), for sure.
How was the cinematography in the sequel?
Having the suit in a suitcase was a huge thing this go round. I was a comic freak growing up and so I know the whole story of Iron Man from the character's inception, so getting into this sequel was amazing. Especially so nowadays, when the computer graphics are making it a lot more believable. I mean, I liked the first Iron Man, but I think the movie's directors were already thinking about this sequel when they were making the first one. I wouldn't have missed this one.
To whom would you recommend this movie?
It's one for all ages, from the youngest to the oldest.Anyone who enjoys action and comics would love this.
Did it remind you of any other work in film?
The closest comparison would be Transformers, just because of the mechanics of the suit.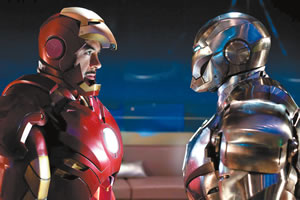 Do you think viewers could relate to any of the characters or storyline?
If you read the comics, they stuck to Tony Stark's eccentric multimillionaire persona but also touched on how he tried to be responsible with his work. I think we all can relate in some ways. His character is big, in a way, but as in everyone's life, nothing is perfect. Bouncing back from your down-and-outs and valleys in life makes you a better person, and I think that's the moral of the story.
On a different note, what's new with you?
It's funny in the movie industry - you talk about them (upcoming projects), but always after the fact to make sure they do well (laughs).
I do have some projects in the works in California, New York and Chicago, but I'm also really excited about my company, C4 Waterman, and our new shop at 330 Coral St. in Honolulu.
We're kind of the premier supplier of all things stand-up paddle surfing on Oahu, so come check us out or look us up at http://www.c4waterman.com.
Most Recent Comment(s):