Wednesday - November 16, 2005
By
.(JavaScript must be enabled to view this email address)

Movies Showtimes
Share

Jarhead
Movie Review with Maj. Chuck Anthony
Hawaii National Guard Public Affairs Officer
As Told To Katie Young
Where and with whom did you see the movie?
I saw it with my wife Ann at the Kapolei Consolidated Theatres.
Overall what did you think?
Overall I thought it was a very good film, but I wished it had been even better. They went through a lot of trouble to make a very well-acted film and some of the scenes were really terrific, but overall I'd say I was disappointed with what I consider an ambiguous ending.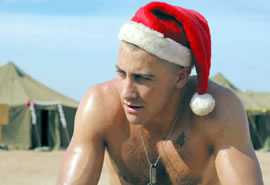 What was your favorite scene?
I would have to say when the character named Troy received a U.S.M.C. branding while they were in the desert. Without giving away too much of the plot, even though this practice might seem extreme, I think for a hard-core Marine who really loves the Corps, something like that is getting a badge of honor. I think it would resonate with Marines and other military people.
How would you rate the acting?
It was excellent. I would say this was a mostly honest portrayal of this Marine's experience during the Gulf War. They only took a little dramatic license. Anybody watching this film would be convinced these were Marines, not just actors playing Marines.
How were the special effects?
There weren't really any special effects, but I think what really set this movie apart from other war movies is that it wasn't so much a war film in the classic sense with the fighting going on. It was more of a psychological drama. I felt the scenes in the desert, particularly when the oil wells were on fire, were very realistic. They did a great job of capturing what it must have been like for these Marines.
Did the movie have a meaning?
All throughout this film I felt as if the director had something very profound to say, but he never got around to saying it. It seemed the director didn't really know how he wanted the film to be or know how to end it.
What was the best/worst aspect of the movie?
The best aspects were I really thought it was a brutally realistic movie and very well-acted film. The worst aspect would have to be in some situations, the director could have explored certain scenes further to develop the characters better.
Is it a movie that you would see again?
I might see it again on DVD, but I wouldn't see it again in a theater.
To whom would you recommend the film?
To anyone who's interested in the military in general. I would definitely not recommend it for children. There's a lot of harsh language and a number of scenes that are sexual in nature. Definitely adults only.
In a four star rating, with four being the highest, what would you rate the movie?
Three Stars
What's your favorite movie snack?
Anything chocolate.
What's your favorite movie?
Keeping it down to the war genre, every time I see Saving Private Ryan I get a lump in my throat. But Apocalypse Now remains the best psychological drama/war movie ever made. It's as much a character study as it is a war film.
Who's your favorite actor/actress?
I think Russell Crowe is very talented, and I really like a lot of Mel Gibson's work, particularly his early work. No question, Kate Blanchett is one of the finest actresses of this generation. She's incredibly versatile. Her first major motion picture was Elizabeth and she was robbed of an Academy Award, in my opinion.
What's new?
We've got more than 2,000 troops still oversees in Iraq, Kuwait and Afghanistan, so we're keeping busy. We've had a lot of people who want to send packages and letters to our men oversees. The response has already been so overwhelming. We really do appreciate these gifts of aloha and the soldiers really appreciate them, but we're actually going to start rotating soldiers home in December and January because their tour of duty is almost completed.
Next week: a new movie, a new celebrity
Most Recent Comment(s):