Wednesday - August 16, 2006

Movies Showtimes
Share

John Tucker Must Die
Movie Review with Pilialoha Gaison
Miss Hawaii 2006
As Told To Melissa Moniz
Where and with whom did you see the movie?
I saw the movie at the Windward Stadium Theatres with my boyfriend Kala'i.
Overall what did you think of the movie?
It is definitely a chick flick.
It's something that a bunch of girls should go see together, not something you take your boyfriend to.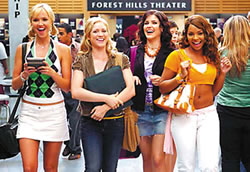 Did you have a favorite scene in the movie?
My favorite scene was when Kate got John Tucker to put on a red thong and scale the building to her room. But he ended up in the gym coach's room instead, and he took him out in the hallway and embarrassed him.Then the next day all the men were wearing thongs. So it turned into a trend instead.
Did you go in with any expectations and, if so, did it meet those expectations?
I did go into it with some expectations that it would be more entertaining and more of a comedy. But it was silly-funny instead. So it wasn't what I expected, but it was all right.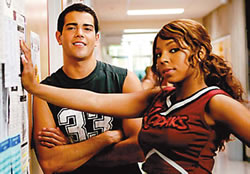 Is it a movie that you would see again?
Probably not.
What character stood out for you?
I would say Kate. She was invisible through the beginning of the movie and she ended up being the one to make John Tucker fall in love. And so she really stood out because she observed her mother's lifestyle and the way her dating experience went with different men. And she used what she observed in her mother's experience in her own experience.
Was the plot realistic? Can you see it happening at other schools?
Definitely. I can definitely see this happening to other teenage girls, who are looking to date the most popular guy in high school. So yes, it's very realistic.
How would you describe John Tucker's character?
I would say he's very suave.
And he tends to date girls from different stereotype cliques in high school, like the outgoing cheerleader type, the more quiet, reserved, intellectual type. So very different genre of girls so they would never interact with each other.
So how did the girls find out that they were dating the same guy?
They were in gym class and one girl was saying how she was dating John Tucker, and the next girl said, hey, I'm dating John Tucker.And then another girl jumped in and it was a whole cat fight.
How would you rate the acting?
I think it was pretty good. The characters who played his girlfriends from three different cliques did a very good job portraying the nerd or the head cheerleader or class president.They stuck with their characters very well, which gave it an interesting twist as to why he would be attracted to different girls with all kinds of backgrounds.
In a four star rating, with four being the highest, what would you rate it?
I would say two stars. The plot wasn't very deep, that's why.
What's your favorite movie snack?
Popcorn and mochi crunch.You can't go to the movie without that.
What's your favorite movie?
Fast and the Furious.
Do you have a favorite actor/actress?
No, not really. I have a list that I like. I like Angelina Jolie, I like Courtney Cox. For actors I like Johnny Depp, I like Brad Pitt.Typical.They have the ability and the talent to play many different characters, which really makes them stand out.
What's new?
Well, being Miss Hawaii there's never a dull moment. I'm preparing for a trip I'll be taking in September to L.A. I will be staying with the other 51 contestants there.We will be doing excursions and outings.We will be meeting other people and stylists and makeup artists.And this will be filmed so they can see how we interact with each other.Then this will be broadcast Jan. 25-29. Up until the date of competition, which is the 29th, they will be showing the film of the interactions that we had in September. So a little special leading up to what really happens and how we prepare as a group for the Miss America title. But I am continuing my workout and keeping up with what's going on with the news. I'm also doing some community service events. Otherwise, just preparing for the pageant.
Next week: a new movie, a new celebrity
Most Recent Comment(s):