Wednesday - March 11, 2009
By Kerry Miller

Movies Showtimes
Share

Eric Lagrimas
Musician (local band, Pimpbot) and record producer
as told to Kerry Miller
Where and with whom did you see the movie?
I went to the Regal Dole Cannery Theatre. This was actually the 3D version, so we had the special 3D glasses to view. I went with a few students from my class. I teach public relations in the music industry at Honolulu Community College.
Overall, what did you think?
Being a fan of live concert-type movies, I was quite surprised and entertained by the movie. I thought I was going to hear some cheesy pop band. Especially with the 3D effect, it was pretty amazing, I must say. The last movie I saw in 3D was probably Toy Story. I was living on the Mainland at the time.
This isn't a normal kind of movie with actors playing roles; it's more of a band documentary. That being said, did you come to get to know the Jonas Brothers better through this movie?
Actually, yes, it's very surprising. At the end of the movie the students who came with me actually got to know the Jonas Brothers a lot better. It was kind of cool for my students, the type of media frenzy the Jonas Brothers can create. It's crazy, with the 3D, the concert footage - it looked like we were part of the audience.There was a scene where one of them threw a pick and we tried catch it.That's how real it was.
What would you say was the ratio of actual concert footage to off-stage activity?
It was basically 75 percent concert footage. The other 25 percent is the band in the hotel room basically dodging fans and seeing how many people are waving at them, how they just shut down Times Square for their CD release party.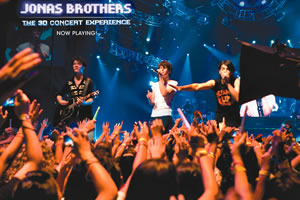 After seeing the movie, as a musician, what do you think of the brothers as a band and their music?
I actually have a newfound appreciation for them. I have a background in music, studied theory and all that. Their level of musicianship, they can pull it off.
Does the movie accurately portray the band-on-tour lifestyle?
Everything from the bodyguard to having them shuffle around, it's pretty intense. It's an in-your-face, rapid-fire kind of movie. The opening sequence starts at 4:30 a.m., a press conference at 8:30, everything chronicles throughout the movie.
On a scale of one to four stars, what would you rate this movie?
Probably ★★★.
To whom would you recommend this movie?
I would recommend it to anybody who's a fan, the tween generation, parents who have kids who want to check out Miley Cyrus. They're huge on the Mainland, (but) not a lot of people in Hawaii get to see how it is at their concerts.
What's new?
I'm going to be touring the Southwest with Pimpbot. We're one of five Hawaii bands performing in the "South by South West" tour.We're touring the West Coast and Southwest, leaving March 12, going to be gone for about two weeks. We've done other regions of the U.S. but have not toured this area before. We're forging ahead with new territories.
Most Recent Comment(s):