Wednesday - May 02, 2007
By
.(JavaScript must be enabled to view this email address)

Movies Showtimes
Share

Journey From The Fall
Bob Jones
MidWeek Columnist
As Told To Melissa Moniz
Overall what did you think of the movie?
Overall I was really happy that this year we're finally getting to see a couple of movies that are going to show how innocent people are horribly caught up in wars. The first one, which I already saw, was The Situation, which is about ordinary people in Iraq. And now this one, about what happened to Vietnamese who were sort of left in the lurch when the United States pulled out.
So, from the standpoint of telling the story, I'm really pleased that filmmakers are doing that because not enough has been said. We've had a lot of movies about war and soldiers at war, but not enough about the people who are not participating but are forced to in one way or another.
With your knowledge about Vietnam and the war, did you think the storyline was accurate?
I think so. It's been reported that somewhere between 30,000 and 50,000 people died in the re-education camps. So I suspect that's fairly true, although I think maybe some of the scenes of the camp were a little overdone. I doubt that all the guards and camp commanders were all sadistic beasts. People died of starvation, but I've never heard that they were all routinely beaten and treated like pigs. But yes, a lot spent many years and I know people myself who have spent seven years in those re-education camps.And then the story of the boat people was very accurate. It was hard to get out and you had to pay, and sometimes the people took your money and just dumped you at sea. And the others were preyed on by pirates who robbed them and raped the women. And sometimes they just sank the boats. So that was very accurate and very well done. That was the best part.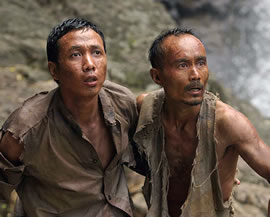 What did you think of the cinematography?
Really, really good. But the film was too long. At 135 minutes it needed to be cut. But the scenes were magnificent and really well done. My worry about the whole movie is that this movie seems to have been made mainly for Vietnamese in America who will identify with all of this, but I think that with the amount of dialogue in there and the very limited amount of action it may be a little hard for most Americans to sit through 135 minutes of mainly subtitled dialogue.
Because this movie is from the Vietnamese standpoint, did it place a negative light on the American involvement in the war?
They mention early on that the Americans have abandoned them and one of the characters asks,"What do you think?" But they didn't make an issue of that at all.The real issue of this movie was two things: The father that was played by Long Nguyen who rather stupidly elects to stay behind after the fall and he sends his wife, son and mother off to find a boat and escape. So one part of this was surviving in a camp, which is very touching.And the other part is the survival of the family that did get out. It goes into a whole new story about the family's assimilation in Orange County, California.
Was there a scene that stood out for you?
I really liked the scene where the father and his friend from the camp escape, and they're trying to make their way through the jungles.And they come across this very old Vietnamese woman, and the friend wants to kill her because he's afraid that if they let her go she'll tell.The main character, Long Nguyen, says no, we won't do that, and tells her just don't tell anyone and lets her go. And then, of course, she betrays them.
Is this a film you would recommend?
I would recommend it.Again, I think that Americans really don't know enough about the agony of ordinary people who are caught up in war. Other than just the bombs and the bullets, you have to remember that people are asked to choose sides in the war, and that's where they get badly hurt.
Who was your favorite character?
Long Nguyen. He is just a remarkable actor and I hope he will be used in more films. He himself is a refugee from Vietnam, so I'm sure he could identify. He ran away with the film.
Do you think this movie has award potential?
I don't think so.The critics have generally liked the movie, but I don't think American audiences are going to warm up to it.
In a four star rating, with four being the highest, what would you rate it?
I'd would give it a two and 1/2 to three stars.
What's your favorite movie snack?
Do you know that I've never learned to like popcorn? So if I snack, I have to admit I usually get like a hamburger and put it in my pocket and take it into the movie. I like to watch a movie while eating a hamburger.
What's your favorite movie of all time?
I don't know if I could tell you that I have a favorite movie, but I could tell you that the one movie that I don't mind seeing over and over again is Being There with Peter Sellers.
What's your favorite genre?
I'm a hopeless fan of a really good action movie. I loved Casino Royale. I loved The Shooter. I think that people go to the movies more to be wildly entertained than to be educated.
What's new?
Well, I am planning a very ambitious tent camping trip to the Ozark Mountains. I'm going with an old college/high school friend. And on my home simulator computer I'm learning to fly the Air Force F-16 fighter jet and the Navy FA-18 fighter bomber jet. And I'm just about ready to start my first carrier landings.
Next week: a new movie, a new celebrity
Most Recent Comment(s):