Wednesday - May 09, 2007

Movies Showtimes
Share

Kickin' It Old Skool
Jason Genegabus
Star Bulletin Columnist
As Told To Melissa Moniz
Where and with whom did you see the movie?
I saw the movie at Ward Theatres with a person who knows movies a lot better than I do - the editor of SMART magazine, Sarah Honda.
Overall what did you think?
If it wasn't for this review I don't think I would have gotten to the theatre to see this movie. The movie was typical Jamie Kennedy. If you've seen one of his other movies where he tries to act like he's black, then you know what this one is going to be like too.
Was there a scene that stood out or that you enjoyed?
Most of the comedy was very predictable, so you could kind of tell where the story was going and where the jokes were going long before anything happened.The movie takes a lot of overused cliches and storylines and reuses them. However, I will say this: There was one part of the movie that surprised me in a good way. I laughed out loud when the scene happened and it involved somebody throwing up. And I'll just leave it at that so I don't give anything away.
Was the movie relatable?
I personally could relate to it because the storyline is about a kid from the '80s who falls off the stage while breakdancing and goes into a coma for 20 years. I'm at about the same age as the main character that Jamie Kennedy plays. The whole movie is a bunch of '80s flashbacks, and everything is tied to the '80s, so that was very relatable because it was like a walk down memory lane. Other than just the nostalgia aspect I couldn't really relate to it because the humor was just so juvenile,but it wasn't for a juvenile audience. It was really for adults, and it shouldn't have been rated PG-13 because there were racial jokes, swearing, sexual things. So it was very adult humor, but real juvenile at the same time. He was acting like a big kid, but it was definitely not a kid's movie.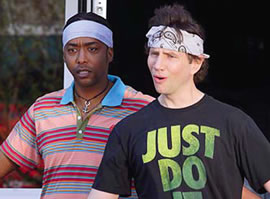 You mentioned that the movie had racial jokes. Do you think people would take offense to these jokes?
Locally, because of the way everyone pretty much gets along, I don't think local audiences will have too much of a problem. On the Mainland, though, it may be seen a little differently because one of the main characters is the Asian guy from Mad TV and he was the butt of a lot of Asian jokes. For a movie that's about breakdancing, there's a lot of white people in it. The only one token black guy, who is one of the four main characters, but there wasn't a lot of black people in the movie. And I'm sure some people won't be happy with the portrayal of a black woman played by Vivica Fox.
Did the movie portray a negative or positive view on break-dancing?
All positive. Probably the one part that I liked the best was the dancing. Don't get me wrong, Jamie Kennedy is not a breakdancer,and you can tell how cheap the movie is because you could tell when the body doubles were in. It looked like this movie was one of those movies that actors just get in to keep their career going. There's a bunch of actors that you'll recognize from other shows.
In a four star rating, with four being the highest, what would you rate it?
One and 1/2 stars.
What's your favorite movie snack?
Whatever I can sneak into the theatre, and that's why you always need to go with a girl because they have purses. But with that said, I typically just get popcorn and a soda.
How often do you go to the movies?
Very, very rarely. Newspaper reporters don't get paid a lot and I can't afford $9 tickets.
Who's your favorite movie of all time?
Growing up, it was Star Wars. As I got older,it was Scarface. And I've always had a weakness for Ice Cube's movie Friday.
What's new?
Being that the day job is at the Star-Bulletin covering nightlife and entertainment, the biggest news is my new blog www.sonecessary.tv. I get to pretty much do everything that I've been doing with my column online. It's another platform for people to keep up to date with Honolulu nightlife. I'm also coming up with the one-year anniversary of Stone Groove Radio. That's a local hip-hop show that airs Sundays at midnight on 102.7 Da Bomb. I do that with DJ Jrama and Subzero.We're been doing that every week for almost a year now, so that's a pretty big deal.People can listen to the show online at www.stronegrooveradio.com. And then there's one more thing I got going on - every first Friday of the month I co-host a local hip-hop showcase at The O Lounge. It's called Flow. It's myself and Big Mox aka Jonah Moananu from American Idol.
Next week: a new movie, a new celebrity
Most Recent Comment(s):