Wednesday - December 21, 2005

Movies Showtimes
Share

King Kong
Movie Review with Richard E. Ball
Honolulu Zoo Mammal Specialist
As Told To Katie Young
Where and with whom did you see the movie?
I saw King Kong with my wife and best buddy, Loreen Matsushima at the Dole-Signature Theater.
Overall what did you think?
The movie was terrific, by far the best Kong movie yet. The action after a slow beginning was a thrill a minute (sometimes a thrill a second).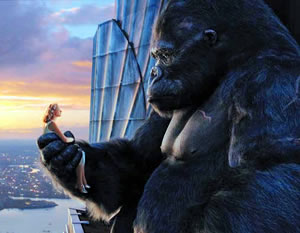 What was your favorite scene?
I had two favorite scenes in this movie. The first was the brontosaur stampede when the rescue party was being chased (they thought) through that gully by humongous dinosaurs. They were running and sliding and avoiding the legs and bodies of maybe 10 of these large beasts to find out there are smaller, carnivorous dinosaurs (the reason the brontosaurs were stampeding in the first place) trying to grab and kill them in all this confusion, wow! I (we) also really liked the scene where Kong had just defeated three tyrannosaurus, the last of them by ripping his jaw (just like in the original). He was being his most macho self at this point and she realized that he had saved her from doom. He began to walk off with her behind him when he stopped and threw her on his shoulder for the ride back to his mountaintop vista.
Did you have a favorite character?
Kong was by far my favorite character. He was intelligent enough to communicate by showing humor, by being protective of his new friend and showed many gorilla-like behaviors that make us identify with and love these endangered animals. The people who made the movie really captured many of the gorilla's natural movements and characteristics although they took creative license with the roars (much more like a lion would make) and those long leaps Kong made.
How would you rate the acting?
The acting overall was quite good. Jack Black, Adrian Brody, Naomi Watts (in particular) were sensational. The three of them were believable in the roles as they were cast. I could comfortably relate to their characters without distraction from bad or mediocre acting.
Man's greed is only surpassed by his need for and ability to love. Jack Black was a man on a mission and was going to be successful at anyone and everyone's expense. His greedy need for recognition was surpassed by Naomi Watts unflinching belief in herself and her capacity to reach and ultimately caress the most terrifying creature of them all, King Kong.
I felt the slowest part of the movie was during the set-up period early when you first began to meet the different characters.
What was the best/worst aspect about the movie?
The movement of the movie was slow and the attempts at humor were poorly received (by me at least). The best aspect of the movie was the constant, unrelenting action. The movie moved from scene to scene with ease.
How were the special effects?
This version of the movie was better even than the original. The graphics were better even than Lord of the Rings. The writers stuck to the original movie,making changes in the scenes and script only to make it better. The folks who attend movies these days are so much more sophisticated than just a few years ago, and always want more than they saw a short time ago. Well King Kong is better, way better than ever.
On a four star rating, with four being the highest what would you rate the movie?
I give King Kong four stars and am tempted to add another. When we left the theater we knew this movie would be a winner with nearly everyone. It featured super adventure, love affairs, people with great passion for life, as well as lessons to live by. I feel King Kong will become one of my top five movies, ever.
To whom would you recommend the film?
I would recommend this film to anyone (except children) who loves action movies. They are going to have the movie time of their life!
What's your favorite movie snack?
Popcorn! Loreen and I always get popcorn because it has few calories and does-n't come near to filling you up. We also get a frozen Coca Cola to help wash the whole thing down.
What's your favorite movie?
My favorite movie is Snatch. Guy Ritchie made this wonderfully funny movie about gangsters fixing boxing matches in England with a sub story about a huge diamond that was stolen from some Jewish jewelers. The attempts to regain possession of the diamond by an American mobster mixed in with the superbly timed misad-ventures of a few small time,bungling burglars made for a movie I can't get enough of. Enough said!
Who's your favorite movie buddy?
Loreen,of course! We really enjoy going to movies together even though we like different types of movies.I like action movies with macho guys strutting their stuff. I think you get your money's worth when the movie is action-packed.
Who's your favorite actor/actress?
My favorite actor is Jack Nicholson,followed closely by Harvey Keitel, Denzel Washington,Tommy Lee Jones, etc. Don't think I have a favorite female actress, although Naomi Watts was excellent in King Kong.
What's new?
Rusti, the Honolulu Zoo's orangutan, is in limbo for now until Violet (his future cage-mate) is cleared during her quarantine period of 30 days. After that he will be transported to the new exhibit/sleeping quarters for introductions. We expect them to get along famously after a short period looking at each other through a fence. It has been over 15 years since Rusti has been with another orangutan, so we hope he is ready to share his space and keepers with another.
Next week: a new movie, a new celebrity
Most Recent Comment(s):