Wednesday - June 18, 2008
By Kerry Miller

Movies Showtimes
Share

Carlos Silva
COO of Fight Agents
As Told To Kerry Miller
Where and with whom did you see the movie?
I saw it at Kapolei Consolidated Theaters with my girlfriend Shana Kumhone.
Overall, what did you think?
It was hilarious. I loved it. Jack Black was just off the wall. It was a very good show.
Did any of the martial arts moves look realistic in the movie, even though it was animated?
You know, a lot of it was over the top because it was animation. Honestly, some of the moves were recognizable, as far as kung fu.
Was there an overall message of the movie, something you took away as a viewer?
It was such an over-the-top storyline; it was such good fun. He (Po, the main character voiced by Jack Black) learned the whole point was to be more comfortable with yourself. He's the opposite of consummate martial artist. The overall lesson he learned was to be confident with yourself.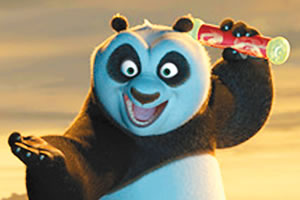 What about the actors doing the voices, did anyone stand out?
Actually, Dustin Hoffman did the sensei. He was really good. Lucy Liu was very good.
On a scale of one to four stars, what would you rate this movie?
★★★1/2.
To whom would you recommend this movie?
Actually, to everyone. It's a great show for the kids. In the theater last night the adults were the loudest laughing.
Favorite movie snack?
M&Ms Peanut.
What's your favorite type of movie to watch?
Comedy, like Adam Sandler or Jack Black.
How often do you go to the movies?
Actually, I wish I had more time. We're very busy. Once every few months I'll go.
What's new?
Right now we're working with the West Side Athletic Foundation, putting on an event July 4 at Maili Beach Park. Cirque Hawaii is going to be there, entertainment with Fiji and Jay Boog. Also, fireworks and games for kids. It's going to be done in conjunction with the City and County to benefit youth organizations on the Leeward coast. Another thing is we also work with XI World Events. We do a lot of their sponsorships. We're doing an MMA event at Blaisdell Center July 12.
Most Recent Comment(s):