Wednesday - June 17, 2009
By Kerry Miller

Movies Showtimes
Share

Scott Creel
Pearlridge Center Regional Marketing Director
as told to Kerry Miller
Where and with whom did you see the movie?
I saw it at Pearlridge Center Theaters, and I went solo.
Overall, what did you think?
I thought it was so-so. It was kind of a little slow at the beginning, taking off, but once you got into it kept your attention a little bit more.
Are you a fan of Will Ferrell? What did you think of his performance in this movie?
I am a fan of Will Ferrell. I watched him since he was a regular on Saturday Night Live. I've seen most of his other films.
I understand you're a fan of the original Land of the Lost. How did the storyline in this movie compare to that of the 1970s TV series?
I was 11 when the original TV series came out.I remember watching it every Saturday. There was some expectation that it would follow along those lines, but it really didn't. The names of the characters were the same, but instead of being a father, son and daughter in the movie it was the Will Ferrell character, Holly (played by Anna Friel, who in the original was his daughter), who was a fan of him (Ferrell's character, Dr. Rick Marshall) as a doctor, and the other character was the owner of an amusement park-type ride (played by Danny McBride).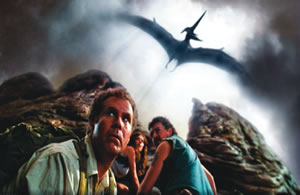 Were you impressed with the special effects, like the dinosaurs? Did they look real?
The special effects were basically of the same quality that you would expect when you saw Jurassic Park - high quality,almost seamless.They're done really well. One of the funniest scenes was when a big giant mosquito lands on his (Will Ferrell's) neck and basically takes out too much blood and he gets woozy. He turns around and there's a giant tick on his back. He's playing a banjo, and you watch him getting sleepy from blood loss. The reason it's interesting is, it's right before our giant insect promotion at Pearlridge - we actually have a giant mosquito head to show what they do and how they do it. I was paying particular attention to the big bugs.
On a scale of one to four stars, what would you rate this movie?
★★
Would you buy this movie on DVD?
I might consider buying it if I knew the person getting it was in junior high school. The majority of the crowd was that age with their parents. Most of the laughter was from the kids.
To whom would you recommend this movie?
Don't see it if you're expecting to relive your youth, but do see it if you like Will Ferrell.It's inane silliness. It's perfect for a teenage boy or girl.
What's new?
The Giant Insect Safari. It starts Saturday, June 20, and runs through Sunday, Aug. 2. It is a free, interactive display of giant insects.
There are all sorts of interactive displays in addition to a 20-foot-tall praying mantis - these things actually move. We also have a safari train, and for a nominal fee kids can actually ride among these giant insects.The exhibit is open during regular mall hours. In the late '90s we had giant dinosaurs. Every summer we try to have a long-term free educational experience for the kids and the families. This one we think is going to be a big, big winner.
Most Recent Comment(s):