Wednesday - July 20, 2011
By
.(JavaScript must be enabled to view this email address)

Movies Showtimes
Share

Virginia Hinshaw
Chancellor, University of Hawaii at Manoa
Where did you see the movie and with whom?
At the Kahala Theatres with my friendly neighbor Sally Kanehe.
Overall, what did you think of the movie?
I love movies and am a big fan of both Tom Hanks and Julia Roberts. However, I was definitely disappointed because, in my view, this movie was really dreadful. The characters were neither humorous nor engaging, and the plot was garbled. This movie could have been inspiring and entertaining — unfortunately, it was neither.
On a scale of one to four stars, how would you rate this film?
★
Was the message/theme of the film clear?
The messages were really not clear at all. Messages included recovering from job loss, finding romance at a mature age, relating to different people and using higher education at community college to change lives for the better. However, none of these were portrayed in an interesting, coherent manner. I actually get to see people who lose their jobs and truly regain their lives through our UH community colleges, so I know this could have been a refreshing and intriguing story. Unfortunately, that was not the outcome.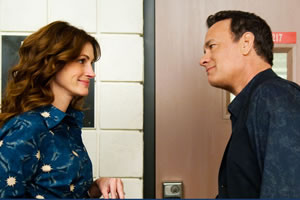 To whom would you recommend this movie?
I find it hard to imagine recommending this one to anybody. Before I saw the movie, I thought anyone who was a fan of Tom Hanks or Julia Roberts would surely enjoy their performances. But I think it is more likely that they would be even more disappointed because of the waste of these actors' talents.
Switching gears, what's new with you?
Many great "Manoa Moments" this month have been cause for celebration. They include: reaccreditation for 10 years, the longest term possible and one that is achieved by very few universities, which is truly a critically important milestone for UH Manoa; a wonderful $2 million gift for an endowed dean's chair in the Hawai'inuiakea School of Hawaiian Knowledge from Judy Pyle, my longtime friend; the UH Cancer Center emerging from the ground at a rapid rate, along with a $3.6 million gift to director Michele Carbone for mesothelioma research; our Campus Center expansion being well under way, which will provide recreational facilities and gathering places for our students when it is completed next year; the installation of solar photovoltaic panels on the roof of Sinclair Library, which is another way we are moving toward the generation of electricity on campus; a visit with Dr. Genshitsu Sen, 14th generation grand tea master, celebrating 60 years of Urasenke's relationship with our university; meeting our incoming regents' and presidential scholars and their parents — all very impressive; concerts at the UH Manoa Waikiki Aquarium; excitement about our upcoming season of athletics, including football, volleyball and basketball; and the finishing touches on our newest television commercial that will showcase the tremendous experience we offer on the Manoa campus to potential students and supporters.
Overall, this is an extremely exciting and truly productive time in many ways, so I feel optimistic and energetic about the new academic year.
Most Recent Comment(s):