Wednesday - October 06, 2010
By
.(JavaScript must be enabled to view this email address)

Movies Showtimes
Share

Ashley C. Smith
Photographer, Taryn Reid Photography
Where and with whom did you see the movie?
I saw the movie at Ward Theatres with my son Logan. You have to see this movie or any other movie in the Titan XC theaters with reclining leather seats. It is super huge, so awesome.
Overall, what did you think?
I thought it was a bit darker than I expected, but I really enjoyed it. It runs along the basis of good versus evil. It depicts heroism, bravery and sacrifice. It is like an owl version of Lord of the Rings. It was kind of hard to follow because they are all owls. Visually it was outstanding. The textures and the colors are crazy.
On a scale of one to four stars, what would you rate this film?
I would give it ★★★ stars. It is a gorgeous animated film. The names are a bit difficult to follow, and they all have accents. It is definitely a movie I will watch again with my whole family.
Without giving away the ending, what was one of your favorite scenes?
When Soren (the main character) and his friends are learning how to fly, and it is during a monsoon. The other owls are encouraging Soren to feel it, feel the air and let your gizzards guide you. It is a moment where he totally gets it and just lets go. It's just beautiful. I should do that more often in my own life.
What did you think of the cinematography?
It is unlike other animated films.
When you are sitting in that movie theater you can see and almost feel the textures. The feathers look so real, and the talons when the owls are fighting are amazing. I am not sure what they did differently, but it is an ultra upgrade. The lighting is near perfect.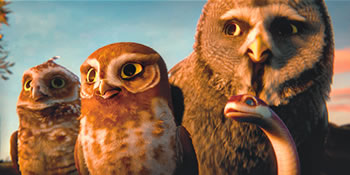 Was the message/theme clear?
The message is very clear. It is almost on a spiritual level. Believing in something tangible, like God, or believing that there is a higher power. They are there for a reason and they helped.
Did it remind you of any other work in film?
Definitely Lord of the Rings!
To whom would you recommend this movie?
I would recommend the movie to anyone 8 years old and above. My son is 5 and he got a bit lost, but he loved it.
Do you think the movie is worth the ticket price?
Yes, definitely.
On a different note, what's new with you?
I am taking a break as a production coordinator. I am trying on a new hat as an on-site still photographer. I am currently working on a few local projects, and I am just excited to get out of the office and being on a film set again.
Most Recent Comment(s):