Wednesday - January 03, 2007
By
.(JavaScript must be enabled to view this email address)

Movies Showtimes
Share

Letters From Iwo Jima
Patrick Brent
Chairman, Pearl Harbor Visitors Center
As Told To Melissa Moniz
Where and with whom did you see the movie?
I brought with me a panel of experts. I brought the colonel in charge of the Marine history division, and another Marine colonel who has spent a lot of time on Iwo Jima. There was also a Japanese expert in the audience, who stated that the subtitles were excellent. A friend of mine who I went with, Jim Stepanek, said, "Well, it sure wasn't a John Wayne kinda movie."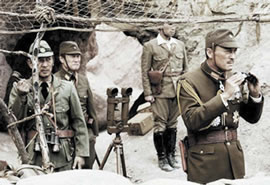 Overall what did you think of the movie?
I would rate it three out of four stars. I wouldn't rate it a must-see, but I'd rate it one very, very good movie. I would rate it superior to Flags of Our Fathers(both directed by Clint Eastwood).
In what ways was this movie superior to Flags of Our Fathers?
It had a better story line and the story flowed better. Plus it was fascinating, and uncomfortable as a Marine, to see the enemy close up from their perspective shooting Marines - actually slaughtering Marines.
As a war movie, there was probably a lot of intense scenes, what did you find most gripping?
Watching the Japanese general (with binoculars) viewing the now historic Marine Corps flag raising on Mount Suribachi, from a distant enemy lookout, will linger in my memory for a long, long time.
As far as you know, was the story line accurate?
I'm sort of a Marine history buff, and I thought both movies, Flags of Our Fathers and Letters From Iwo Jima ,were very confident. I thought it was flawless. I couldn't find an error at all.
Because the movie was in the Japanese perspective, did it sympathize with the Japanese?
Totally. It was empathetic to their side, which was appropriate to the movie's mission. Actually, my friend told me that it was released in Japan to overwhelming acclaim and popularity.
Do you think this movie portrays a negative view of the U.S. military?
No, not at all. In fact, if anything, it's positive because of their overwhelming strength and position - the fact that no matter how many Marines got wounded or shot, that they just kept going and going until they eventually killed every single Japanese soldier on the island- 22,000 of them.
Both these war movies, Flags of Our Fathers and Letters from Iwo Jima, were released while we have a war going on. In your opinion, do you think think this gives American viewers a better perspective on the war happening now or do you think these are totally different wars?
I think all wars have something in common: They're foolish, they're unnecessary and people die. Flags, Letters and today's war in Iraq - they all have a common thread. When comparing wars, Iwo Jima had 40,000 casualties, 28,000 were killed in action. But by today's standards, not that any death is acceptable, but today we're approaching 3,000 casualties in Iraq, and by today's standards that is totally unacceptable.
On Iwo Jima we lost 3,000 Marines in the first day. We used to accept massive slaughter in World War I, Iwo Jima and Vietnam, up to a point.
You mentioned that you think every war is foolish, but during the days of Iwo Jima, war was more accepted. Do you think it's because there was more of unified support from the American pubic during those days than we have now?
Definitely. We had a draft during those days, and everyone went - 400 graduates from Princeton University were drafted. Just last year, out of all the Ivy League colleges only one kid went to the military, (whereas) 400 went from one school in the old days. Everyone knew they had to serve their country.
I'm a firm believer, personally, to going back to the draft. I don't believe someone should be forced into the Marine Corps - never! Marine Corps should be strictly volunteer men. However, people should be forced to go away to the Peace Corps, the Navy, Coast Guard and be forced to do a year or two of service to our country.
And because they're rich or entitled should not waiver them from this. Right now we have a 500-man Congress committee that's sending our men to war, and there's only four kids from all those 500 congressmen who are serving in the military. If we go to war, it should be everyone together. It was a different country in those days. Patriotism is seriously dampened these days. People with their political correctness are attacking patriotism. Patriotism is very much diminished.
The movie was subtitled. What did you think about the subtitles?
I have always disliked subtitles, however, this is the rare exception. To have this movie dubbed in English would ruin the effect of the strong guttural Japanese command. And the subtitles, according to the experts, were flawlessly done.
To what type of audience would you recommend the movie?
I think it's an adult audience. I think mature people who have a sense of history would probably enjoy it more than teenagers.
Did you have a favorite character?
Gen. Tadamichi Kuribayashi was both in real life and in this movie an incredible gentleman warrior. Ken Watanabe, who plays his character, should definitely be nominated for Best Actor.
He was on TV the other day with Larry King and I'll tell you, I think he's going to get nominated for Best Actor, and Larry King said that too. He is a fine, fine actor. He is one of the top actors in the world. As one Marine wife told me, "I'd follow him anywhere," so he has a sex appeal too.
What do you think was so compelling about his performance?
One, he is truly a Japanese warrior type - that was also proven in The Last Samurai. His voice and his command and his humanity were very rare for a Japanese officer.
In fact, I somewhat challenge the humanity of his character. Very few men rise to the rank of general in the Imperial Army in Japan without some kind of ruthless behavior pattern.
This movie has an impressive cast of all-Japanese actors, which is unfortunately very uncommon in American films because many times other Asian ethnicities are used instead. What's your opinion on that?
I think it's excellent. That's the way all of these movies should be. Memoirs of a Geisha lost a lot of credibility when they had a beautiful Chinese girl playing the key role.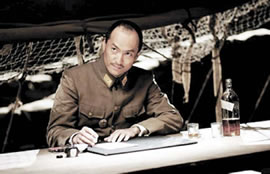 What's your favorite movie snack?
I'm a Marine; we don't do snacks.
What's new?
I'm the chairman of the Pearl Harbor Visitors Center.
What's your day-to-day operations there?
We bring hospitality and warm meals to tourists who never had these courtesies prior in the past 30 years. I'm proud of bringing aloha spirit to visitors, our guests who have not had that treatment in the past.
Note: 'Letters from Iwo Jima' opens in Hawaii theaters on Jan. 12.
Next week: a new movie, a new celebrity
Most Recent Comment(s):