Wednesday - January 12, 2011
By
.(JavaScript must be enabled to view this email address)

Movies Showtimes
Share

Mento Mele
Afternoon Host; Island 98.5 FM
Overall, What did you think of the film?
I was all excited for the movie, but it was disappointing. Thank god I enjoyed the popcorn and M&Ms because the movie was LBB (little bit boring). I needed, like, Ritalin pills to keep my attention. There was no flow to it, there were too many elements and it was all scrambled.
How did this film compare to Meet The Parents or Meet The Fockers?
The other two are way better. The storyline, there isn't one here.The comedy of it came in spurts, and it felt like the writers were doing an overkill. They were desperate; nothing was consistent at all. I think the writers needed to go out with a bang, but instead it seemed like they took a chance and rolled the dice on this one, and it's embarrassing. If I was one of these A-list actors I would be embarrassed. It is a shame, seriously.
On a scale of one to four stars, how would you rate this movie?
I will be nice and say 1/2 ★. It was unoriginal because you knew where the plot was going and they were just being desperate for profit.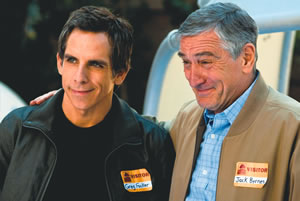 Was there a scene or moment in the movie that stood out to you?
They used the joke with the erectile dysfunction pills, you know, the teenie, peenie erectile pills.They were just desperate for comedy.You knew that Robert De Niro was going to take it because of his heart condition.You knew he was going to have a boner for like four hours. It was funny at the moment, but if you're going to talk about teenie, peenie pills, you kind of know where the jokes are going to go.
What about the acting? Did anyone stand out?
The sad part is they have a set of A-list actors like Harvey Keitel, Jessica Alba and Dustin Hoffman, but they fell so short of their potential. Like Alba - they used her as a distraction for Ben Stiller's character, but it was too much and became annoying. Owen Wilson's character was this hippie and it was unneeded. Dustin Hoffman, who plays Wilson's father, gets left on the back burner. If you have A-list actors, you should have A-list performances.
To whom would you recommend this movie?
I really couldn't. I think they made money because of the Meet The Parents and Meet The Fockers movies they put out before. They knew they could get viewers who liked the first two and would go to see this one. It was nails, LBB (little bit brutal). They just went too far with the Focker innuendo, it was like a double dose of Focker, we got it already. It was boring.
Was the movie worth the ticket price?
Let's just say if I had to pay $10 for this movie I would have been like Focker this, are you kidding me? I want my money back. I am just being real. It needed to be consistent all the way through and it wasn't at all.
On another note, what is new with you?
Please tune in to my show,Afternoons with Mento Mele, Monday-Friday, 2-8 p.m.
Most Recent Comment(s):