Wednesday - September 28, 2005
By
.(JavaScript must be enabled to view this email address)

Movies Showtimes
Share

Lord Of War
Movie Review with John Veneri
KHON2 Sports Anchor/Reporter
As Told To Katie Young
Where and with whom did you see the movie?
I saw the movie by myself at Dole Cannery Theatres.
Overall what did you think?
I really did like the movie. I thought it was a bit depressing in some areas, but let's put it this way ... it's not a movie I would have originally gone to see, but because I had to see it for this assignment, I'm really glad I did.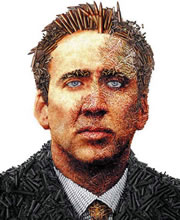 What was your favorite scene?
I really enjoyed the very beginning of the movie when the camera actually follows around a single bullet from its inception to when it's being fired to when it hits its victim. But that's when it gets depressing, because of whom it's fired at. I mean, this movie is about guns and weapons. But I liked the scene mainly for the graphics, which were great.
Did you have a favorite character?
I definitely enjoyed following around Nicolas Cage, who was the main character. It's funny because he was likeable almost because he was kind of a sick character. He had so many problems. He was like a war lord, and what he does is almost sadistic. He sells guns to everyone in the world -
both the good guys and the bad guys.
How would you rate the acting?
I would give it an eight out of 10.The brother is a drug addict, and his wife is a model who tries to stay away from the truth.The guys he deals with are not in it very much to determine their acting, but Ethan Hawke was also really good in his role as a government agent who tries to stop illegal arms dealing.
How were the special effects?
There weren't a whole lot except in the very beginning. Other than that, the movie is pretty realistic. It's set in places like wartorn countries and slums.
Did the movie have a meaning?
I think it had a deeper meaning in that everyone in the movie was addicted to something. Nicolas Cage was addicted to selling arms and making money, his wife was addicted to not wanting to know the truth, the brother was addicted to cocaine, the guy he was selling arms to was addicted to arming everyone in his country with weapons ... At the end of the movie it says the film was based on actual events, so you wonder what's real and what's not. It's convincing enough to make you think about what's actually happening.
What was the best/worst aspect about the movie?
The worst aspect is the thought of someone out there controlling weapons distribution - illegal firearms that might kill a family member. It's something you feel connected to. The best part about it is just getting the knowledge of what may actually be happening. I wasn't aware of some of those things.
Is it a movie that you would see again?
Yes, it is. I wouldn't have originally seen it if not being told to go, but now I'd definitely go again.
To whom would you recommend the film?
It's definitely not for children; it's not a date movie. But if you're a Nicolas Cage fan, he's good in it. I'm not sure what type of person I'd recommend it to, maybe someone who wants to learn a little bit more about what's happening out there.
On a four star rating, with four being the highest what would you rate the movie?
Three stars.
What's your favorite movie snack?
Popcorn with mochi crunch.
How often do you go to the movies?
I don't get to go often, but I do have what I call a movie room in my house, so when the DVDs come out and I come home from work I'll watch them. But there are certain movies I do like to see in the theatre, like War of the Worlds and Star Wars.
Who's your favorite movie buddy?
My friend Curtis, and my friend Marvin Buenconsejo from News8.They're both movie buffs and they both like a lot of the same things I like. We go to a lot of premieres together.
What genre of movies do you like?
I like sci fi and war movies. My favorite movies would be Saving Private Ryan, the Star Wars trilogies and The Godfather.
I'm really interested in real war movies because it's our nation's history. My grandfather was in a couple of those wars. Star Wars is just the movies of our generation.
Those movies set off the whole scifi bang. It started everything. The Godfather again was like another movie of our time. I'm Italian; our family is from New Jersey. Hey, with Robert DeNiro and Al Pacino, how can you go wrong? But I'm also a fun movie guy, like Happy Gillmore and those kind of movies.
Who's your favorite actor/actress?
My favorite actor would be between Harrison Ford or Al Pacino. I got stuck on Harrison Ford from Star Wars and Indiana Jones and Air Force One. I like the roles he has played. He's well-rounded.
I liked Al Pacino in Scar Face, The Godfather, Any Given Sunday and even in Heat. He's able to play a wide variety of roles.
What's new?
I'm still at KHON as sports anchor/reporter.We have the June Jones Show every Sunday night at 10:30 with myself, Kanoa Leahy, Scott Humber and John Allen.
This is the first time we've gotten that opportunity as long as I've been at KHON, which has been nine years. It's interesting every week. We hope to make it interesting even when we don't win but, of course, we hope they win.
Other than that I have three kids, Alyssa, 6, Juli, 4, and Keoni is 2, so they keep me busy. I'm kind of like their human jungle gym - they want me to lift them up or they tackle me.
We also like to go to the park; I'm trying to teach Alyssa to play soccer now.
Next week: a new movie, a new celebrity
Most Recent Comment(s):