Wednesday - December 08, 2010
By
.(JavaScript must be enabled to view this email address)

Movies Showtimes
Share

Hudson
Star 101.9 FM
Morning Host
Where and with whom did you see the movie?
I went to see the movie with my good friend and Sunday morning Life Rocks show partner A.D. at Ward Theaters.
Overall, what did you think?
It is not a first-date movie whatsoever.You sit there and it becomes an entire discussion about a new relationship and whether you stay with this person or not. It really wasn't a love comedy like it was promoted.
I thought it was going to be like a soft porn flick with all the hype about Jake Gyllenhaal not wanting his girlfriend Taylor Swift to see his nude scenes, but there was a little nudity. It really came down to making a serious choice, and wasn't a romantic comedy.
On a scale of one to four stars, what would you rate this film?
I would rate it ★★★.
Was the message/theme clear?
It is about communication and conversation, which is so lacking sometimes. I think it is a great movie for couples to go see, because it brings up great conversation for couples to get into, which can lead into other topics.
It is a conversation starter. We found ourselves leaving the movie talking about how tough a situation it would be. You just met this person, you're having crazy sex, you're just dating and you know the person has Parkinson's disease, and you have to make a decision whether you want to continue a relationship with someone who is going to debilitate over the course of a year.
It would be different if you are committed to someone already and these circumstances take place, but knowing just going into a relationship that my life is never going to be the same and it is never going to get better because there is no cure for it would be hard.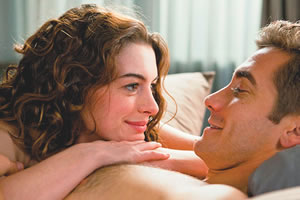 What about the acting? Did anyone stand out?
I thought Anna Hathaway was fantastic. She and Jake Gyllenhaal played their characters so well. He played that "guy." I think they really defined their characters. You got to really know them.
To whom would you recommend this movie ?
I think that the way the marketing was focused is definitely different than what the movie was really about. It is for people who are already in a committed relationship. As a first-date movie, it could scare two people just getting to know one another. It also is good for girls to go see and talk about with their friends, and ask each other what they would do in that situation.
Did the movie remind you of any other work in film?
There is nothing about this movie that compares to anything I've seen before, no.
Without giving away the ending, what was one of your favorite scenes?
The hot steamy kitchen, one boot on, floor scene (laugh). We'll just call it the "thanks for coming" scene.
On a different note, what's new with you professionally or personally?
I do my regular show, Hudson and Scotty B., Monday-Friday from 5:30 to 10 a.m. I do another show with my partner A.D. called Life Rocks on Sundays, and it is all about life. It is about pop culture, life and anything and everything in between.We've been doing this show and working on getting it syndicated, which is really exciting.
Most Recent Comment(s):