Wednesday - May 16, 2007
By
.(JavaScript must be enabled to view this email address)

Movies Showtimes
Share

Lucky You
Matt Matsunaga
Attorney
As Told To Melissa Moniz
Where and with whom did you see the movie?
I saw the movie at Ward Consolidated with my friend Guillaume.
Overall what did you think of the movie?
Overall it had a good message, but it was slow. It was a little hard to sit through the whole thing.
Did you have a favorite scene?
There was one scene that was somewhat interesting. It was where this one guy, who is the protagonist and his name is Huck, played by Eric Bana. And he's betting on everything because he's a professional poker player. So he needs to earn $10,000 for the entry fee into this tournament. So he bets a guy that he can run five miles and play a round of golf in under three hours, and he has to get under a certain number of strokes. So it's kind of exciting watching him do all this running and do all this golf and get to his last putt. He did it, but he actually missed by two seconds.
Did the love story make the movie worth watching?
The love story was nice because Drew Barrymore's character Billie was probably the best character in the movie. What I liked about her is she brought out the best in everyone else and she was very grounded. And so that's why it was a little disturbing watching him steal money from her, but in the end it all worked out.
So did they portray poker in a positive or negative light?
I think poker itself was portrayed as a very exciting sport, but the impact that it sometimes has on personal lives shows that it can be negative.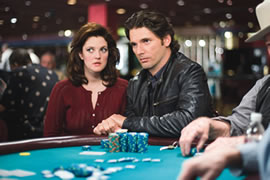 Do you think that the poker scenes were pretty accurate?
They were, but then my knowledge of poker isn't that great. But yeah, it did appear to be pretty accurate.
Did the movie have a deeper meaning or overall message?
I think the message was epitomized by Billie, and it was that greater rewards come from when you help others and not just yourself. So I think the main character, Huck, it took him a while to realize that, but eventually he did.
Is this a movie that you would see again?
No.
In a four star rating, with four being the highest, what would you rate it?
I'd give it two stars.
What's your favorite movie snack?
Popcorn and mochi crunch.
How often do you go to the movies?
Probably about twice or three times a month.
Who's your favorite movie buddy?
I like to go with my daughters and anyone else who will share their popcorn with me and let me use the armrest between us.
Is there any upcoming movie that you are looking forward to seeing?
Probably with my kids, Shrek 3.
What's new?
My law firm is having a tremendous year, so I'm just so blessed. I'm so fortunate and I count my blessings. I have two terrific daughters, my friends and my faith that help me through the rough spots that we encounter in life.
Most Recent Comment(s):