Wednesday - November 19, 2008
By Kerry Miller

Movies Showtimes
Share

Mary Rosolowich
Zookeeper at Honolulu Zoo
as told to Kerry Miller
Where and with whom did you see the movie?
Dole Cannery. I went with a friend, Zane.
Overall, what did you think?
I thought it was great. It was every bit as good as the first one. Maybe a bit slow at the start but it picked up right away.
What about the actors doing the voices, was there anyone you recognized?
Most of them you recognize. Chris Rock, David Schwimmer is the giraffe. Jada Pinkett is the voice of the female hippo. I really didn't know her voice, but we watched the thing at the end.Alec Baldwin played the bad lion.Will .I.Am does one of the voices.Chris Rock is always very entertaining.
Was there a song in the movie's soundtrack that you particularly liked? Did the soundtrack contribute significantly to the movie?
Actually, the one at the very end, it's some new artist and it's a really cute song. There's that song, I like to move it, move it.
Even though they're animated, did the animals in the movie exhibit any real-life behaviors?
Yeah, you know what Melman is kind of a neurotic giraffe, and he has a lot of health issues; we have a female giraffe, she's neurotic, so a neurotic giraffe is not that much of a stretch. We have had a couple in the time I've worked there, one of our seven I've gotten to know very well. Of course, the lions being courageous and the tough guys. The zebra - our zebras are total punky, got a lot of attitude.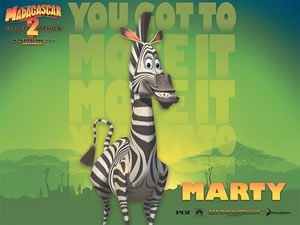 On a scale of 1-4 stars, what would you rate this movie?
★ ★★ 1/2. Almost four,the only thing that cost it a four, is I've seen better kids movies. It's very family friendly fun for everybody.
Who would you recommend this movie to?
I recommend it to pretty much everybody. I know other keepers are going to see it anyway.There's a bunch of cute stuff in there.
Favorite movie snack?
I always go through the large popcorn.
How long have you been a zookeeper?
Fourteen years. I like all of the animals. I've been working with chimpanzees the last couple of years. One thing Madagascar (Escape 2 Africa) gets right, even though they are herd animals they still have a ton of personality, getting to know the animals individually is really interesting, I really like that.
What's new at the Honolulu Zoo?
We just had tiger cubs, they're two months old, growing by leaps and bounds and active and curious.
Most Recent Comment(s):