Wednesday - December 21, 2011
By
.(JavaScript must be enabled to view this email address)

Movies Showtimes
Share

Justin Cruz
Weekday Night Weather Anchor, KHON2 News
Where and with whom did you see the movie?
I took my sister Bety and friends George and Suz to the movie with me.
Overall, what did you think?
Not my kind of film, but it opened my eyes to something unique.
I don't regret watching this film, however, as I left the theater with many unanswered questions and conflicting thoughts about the movie.
This is not a dazzling special-effects movie about the end of the world. Instead it is about relationships and the personal issues of the characters. I did appreciate the fact that it portrayed human depression accurately.
I've seen the toll that depression can bring to a family and how different people react to this illness.
It's my hope that, at the very least, the audience will walk away with a better understanding of how depression can affect individuals and families.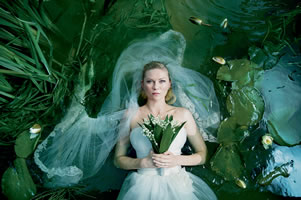 On a scale of one to four stars, what would you rate this film?
★. I do realize that this film has received generally good reviews and even a few awards, but it didn't impress me much. There are scenes that don't make sense whatsoever perhaps part of the master plan of the director.
There are just too many unanswered questions in my mind about the movie, but that might be the genius of it all.
What was one of your favorite scenes?
I liked the ending. It finally came to an end! Kidding! The ending was a unique way to wrap up the story line.
To whom would you recommend this movie?
If you would like to see a movie that is different a non-traditional film that lacks action and a "happy ending" you might enjoy this.
Don't go, however, if you're on a first date. There might not be a second.
Did any of the actors stand out?
Kirsten Dunst and Kiefer Sutherland are always fantastic. I was also impressed by Charlette Gainsbourg, who was my favorite actress in this movie.
On a different note, what's new with you?
I'm blessed to work with the best at KHON2 News.
It's an opportunity of a lifetime great to work alongside evening news anchors Joe Moore and Ron Mizutani, as well as a crew of reporters, producers, directors and videographers that strive to be the best at what they do every single day.
Earlier this year we upgraded our weather system to include the highest resolution radar, called the Quad Radar.
It allows us to show radar in a three-dimensional presentation and updates extremely fast.
In 2012, KHON2 will upgrade to HD plus throw in a few surprises to the weathercast. Stay tuned!
Most Recent Comment(s):