Wednesday - August 02, 2006
By
.(JavaScript must be enabled to view this email address)

Movies Showtimes
Share

Miami Vice
Movie Review with Rob DeMello
KITV-4 Weekend Sports Anchor
As Told To Melissa Moniz
Where and with whom did you see the movie?
I saw the movie at Dole Cannery with my boy from hanabata days, Sione Tamale.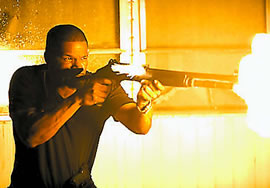 Overall what did you think of the movie?
It was a good movie, just not my kind of movie. I just never was into the guns and violence and stuff like that. But overall it was a good movie. I know Sione enjoyed it, and it's his kind of movie.
Did you ever see the Miami Vice TV show?
I remember it being around,but I was like 4 or 5 years old when it was hot in the streets. I don't remember. All I remember is not wearing socks and white blazers or whatever.I was too young, I was watching like Scooby Doo.
Did you have a favorite scene in the movie?
Umm,not really.But if I had to pick a favorite scene, there's a scene where they are driving on the freeway and there's all these nice cars and stuff like that. But I didn't really have a favorite scene.
How was the acting?
It was good. Jamie Foxx was awesome.You know,that guy,he's really good in his role.And Colin Farrell did about as good as you can do in a mullet and a mustache. (laughs)
Were there a lot of special effects or was it pretty straight forward?
Yeah,pretty straight forward.If you like guns and stuff like that, then you'll like the movie.
Aside from the guns and the shootings, did the movie have a deeper meaning or message?
To tell you the truth,and I know I might take heat for this, but I kind of got lost in a lot of the storyline.I think there may be a Miami Vice 2 or something because they created a lot of things that didn't get finished.It could just have been me, but it just seemed there was a lot of storyline that didn't get solved.
You know how most of these action flicks tie in some kind of love story.Was there a love story?
Yeah, there was definitely some lovemaking in the movie.There were some pretty hot scenes.There's definitely some love in there.
Was it with Jamie Foxx or Colin Farrell?
Both. Both of them got game.
Was there any comedy in the movie?
There was really no comedy. It was actually pretty funny because there were a couple of scenes that people laughed at, but it was of people dying.Yeah,it was kind weird. I think it was a pretty nasty, blood-hungry crowd watching. But there were actually two or three funny scenes,but the rest was like of people getting blown away.
To whom would you recommend the movie?
Anyone who likes violence and action. It's pretty intense. If you like movies that get you wired,and guns and all that stuff - I think it's for you.
In a four star rating, with four being the highest, what would you rate it?
I'd give it three stars. Even though it wasn't my kind of movie, it was a good movie. I liked the way they shot the movie.The scenery was pretty awesome.Like there was South Florida,Miami,Havana,Portugal and Brazil, so it was real beautiful. The only place they were missing is Kailua.
What's your favorite movie snack?
Red Vines. You know what is funny? When I was in high school I used to work at Enchanted Lake Cinema,and you know how when you work there you can eat all the popcorn you want. So working there I ate popcorn everyday for like a year and a half. So now I hate popcorn because I ate way too much of it.
What's your favorite movie?
I don't really have a favorite movie,but there's a group of movies that I really like: The Wood,Rudy and Remember the Titans. Usually anything silly or to do with sports.
How often do you go to the movies?
Very rarely. I rarely go to the movies. I saw You,Me & Dupree recently with my fiancee,but I rarely go.I go maybe a couple times a year. All the movies I watch are usually on TV or on DVD.
Who's your favorite actor or actress?
Will Smith. He was the man back in the Fresh Prince of Bel-Air days, and I really liked him in Ali.
What's new?
Nothing much new,just the same old. I'm doing sports on the weekend. Local sports in Hawaii is just so awesome and all the local athletes are just doing so much.You've got Bryan Clay,Michelle Wie, Brian Ching, Natasha Kai and the players in the Major Leagues. I truly believe that because we come from such a small place that there's no other place in the country that produces the amount of world-class athletes that Hawaii does.You just look at Brian Viloria, and BJ Penn is one of the best in the world.I'm just so lucky to go to work and be that middle man between the athletes and the local fans.
Would you say you have your dream job?
Yeah I would have to say I have my dream job. I think my dream job would probably be doing what Shane Victorino is doing now,but that didn't work out - so this is the next best thing. (laughs)
Next week: a new movie, a new celebrity
Most Recent Comment(s):