Wednesday - November 11, 2009
By
.(JavaScript must be enabled to view this email address)

Movies Showtimes
Share

Grace Bell
Guest Choreographer, MVT's Winter Wonderettes
Where and with whom did you see the film?
I saw it at the Dole Cannery Theatre with my friends Jennie and Julius.
Overall, what did you think?
I loved the film! Because I am a dancer it was hard for me to sit still watching him (Michael Jackson) and his backup crew dance. My toes were tapping the whole time!
We're all familiar with MJ's music, but was there a particular song in the soundtrack that you really liked?
Beat It,Thriller, Billy Jean, Smooth Criminal - I'm such a fan of them all! There were a lot of new takes on the songs that he had done for the concerts in the movie, and I really loved that aspect of it.I think that they really tried to make the audience feel like they were at the concert even though it was really more like an archive of his history.There were times where I just wanted the music to be louder!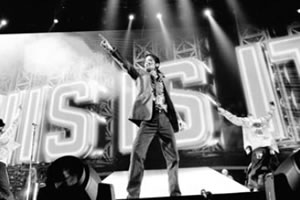 Sounds like you had a good time! So on a scale of one to four stars, what would you rate This Is It?
It was quite spectacular. I would have given it ★★★★!
In the footage, was there any particular scene that really grabbed you?
The part that was really interesting for me was that he was incredibly gracious to his dancers and singers and musicians at all times. I mean, he was very demanding because he was very exact with his vision, but he was very generous and kind when he talked to them. He wanted each one of them to shine in his shows. At the same time, they also showed how socially awkward he could be. At one point he was trying to explain to the director that the volume was too loud in his earpiece, and just how long it took him to explain it and make himself clear was sad.
So who do you think you'd recommend this movie to?
I think anyone who was ever a fan of Michael Jackson would love it, as well as people who are fascinated with music or live concerts.
Would you buy it on DVD?
I would buy it on Blu-ray definitely.
What do you think was the most standout part of the film?
When he did Billy Jean toward the end of the movie there were no special effects, no backup dancers, no nothing - just Michael dancing in his iconic style that we all know and love. It brought back a lot of memories and it was wonderful to see him again.
Did this film remind you of anything you've seen in the past?
This one would stand alone.
In the back of your mind you're always thinking,"What a shame. It's a tragedy no one will ever get to see that concert."
On a happier note, what's new with you?
Winter Wonderettes opens Nov. 12 at 7:30 p.m. and runs through Nov. 29 at Manoa Valley Theatre. I'm the guest choreographer for it and it's a feel-good, get-you-in-the-Christmas-mood type of show. It'll definitely keep you laughing!
Most Recent Comment(s):