Wednesday - May 10, 2006
By
.(JavaScript must be enabled to view this email address)

Movies Showtimes
Share

M:i:III
Movie Review with Kimo Kockelman
Fitness Trainer
As Told To Katie Young
Where and with whom did you see the movie?
My wife Diane and I and our friends Heather and James saw M:I:III at the Dole Cannery Theatre.
Overall what did you think?
This movie is a thrill ride from start to finish.
How did this Mission Impossible film compare to the first two?
My memory is vague, but I would put this film at the top of the list.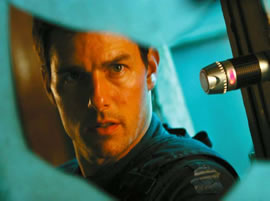 What was your favorite scene?
To be honest, I wasn't expecting much from this film, but the opening scene grabs you immediately and makes you sit up in your chair.You know from the beginning you are in for a thrill ride.
Did you have a favorite character?
I found out from our friend Heather that one of the main characters in this film, Maggie Q, is a Mililani High School graduate. She said they used to play together back in the "hana bata days." So of course, the local girl was our favorite character. She did great.
How would you rate the acting?
An acting critic I am not, all I can say is that I thoroughly enjoyed this movie. It was pure entertainment.
How were the special effects?
It was a loud and action-packed from start to finish. I am a big fan of JJ Abrams, who directed this movie. He also is the director for the Hawaii-based show, Lost. He definitely does not disappoint in this film.
Did the movie have a meaning?
When I ride a roller coaster, I am normally not thinking about "the deeper meaning of life." I try to just hold on and enjoy the ride.
What was the best/worst aspect about the movie?
I didn't expect to like it, but I ended up liking it. That was the best aspect of the film. I don't think there was a worst aspect.
Is it a movie that you would see again?
I normally never have a desire to watch a movie more than once.There are just too many other things to do, like watching other movies.
To whom would you recommend the film?
I would recommend this film to anyone who wants to be entertained by a fast-paced thrill ride. If you are going to sit there and say "that is so not possible," then don't go see this movie. Remember, it is called Mission Impossible.
On a four star rating, with four being the highest, what would you rate the movie?
Four Stars.
What's your favorite movie snack?
My favorite movie snack is ahi poke and a cold beer, neither of which are sold in theatres. Maybe they should consider it. On occasion, I have been known to carry a backpack into the theater with undisclosed items.
What's your favorite movie?
Meet Joe Black. It is the only movie I've watched multiple times. I guess I just enjoy the characters in this film. Oh yeah, and at the end they play a Braddah Iz song.
How often do you go to the movies?
I enjoy going to the movies a lot. My wife, not so much. Which means we go "not so much."
Who's your favorite movie buddy?
My wife, Diane. She is my favorite everything.
What genre of movies do you like?
Call me a cinematic eclectic. I like them all. I guess it just depends on my mood.
Who's your favorite actor/actress?
I am a fan of Ed Norton. He has acted in Primal Fear, American History X and Fight Club. His range of characters seems to be endless. He is believable in every role he plays.
What's new?
My wife is six months pregnant with our first child. Our baby is due to arrive in August. It's very exciting.Also, I started an outdoor fitness class at Kakaako Park. I call it Project Bootcamp. It is a 60-minute workout designed for all levels of fitness. I like to keep it challenging but fun. You can go online to www.hardassfitness.com for more information.
Next week: a new movie, a new celebrity
Most Recent Comment(s):