Wednesday - January 04, 2012
By
.(JavaScript must be enabled to view this email address)

Movies Showtimes
Share

Lee Donohue Sr.
Former HPD Chief
Where and with whom did you see the movie?
I saw it at the Koko Marina Theaters with my wife Lucille.
Overall, what did you think?
I thought it was a great movie. I really enjoyed it. It had all the action that you wanted and kept you right on the edge of your seat with just the right amount of humor.
The supporting cast was really great, and Tom Cruise is always superb.
On a scale of one to four stars, what would you rate this film?
★★★★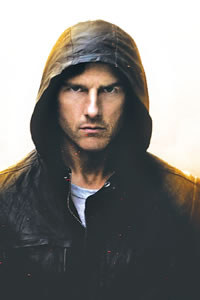 Without giving away the ending, what was one of your favorite scenes?
One of the funny scenes was when Tom Cruise is out on a ledge trying to escape from the Russian agents, and he gets away.
Then the other thing I really liked about the movie were the scenes. They take you to these different cities.
For me, I haven't traveled to a lot of these cities.
What did you think of the cinematography?
The special effects were really great. There was a scene with a sandstorm in the desert, and they had some underwater scenes.
Did any of the actors stand out?
I thought Paula Patton did a great job.
There were the three others (Jeremy Renner, Simon Pegg and Paula Patton) besides Tom Cruise, who helped make the movie.
Did you identify with any of the characters?
Being in law enforcement you can understand and you can identify. But then it's still a movie, it's still entertainment.
To whom would you recommend this movie?
It's action-packed, and if you like action, this one will keep you on the edge of your seat.
On a different note, what's new with you?
I work for Securitas Security Services and I also have my own investigation business.
Some of the stuff in the movie I enjoyed because it's covert, and I can identify with some of that stuff, too. I also have my martial arts business, Hawaii Karate Seinenkai.
Most Recent Comment(s):