Wednesday - April 08, 2009
By Kerry Miller

Movies Showtimes
Share

Nikki Sword
Office manager at Auntie Pasto's Beretania and Dixie Grill
Where and with whom did you see the movie?
I saw it at Koolau Stadium 10 in Kahaluu with my daughter Makeila. She's 8.
Overall, what did you think?
I thought it was a good movie, and it really had a good moral. We liked when Ginormica/Susan Murphy (voiced by Reese Witherspoon) was sent to the secret base and was with all those monsters. When they let them out to get the aliens, after the whole thing they were good friends. The moral of accepting people who are different, I thought it was really cool. It's like saying "don't judge a book by its cover."
This is a 3D movie, so what was the 3D experience like?
I didn't see it in 3D; they only have the 3D in Dole. I didn't know it was in 3D.
What was the last movie you saw in 3D?
We saw The Nightmare Before Christmas at Dole last year.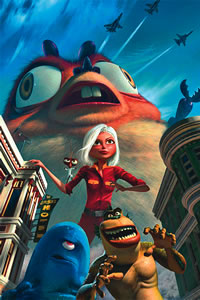 What about the actors doing the voices, did anyone stand out?
Reese Witherspoon, she was the girl (the character Ginormica/Susan Murphy). I liked her; she's a really good actor. I think it's cute that she's in a kids' show and she's a mom.
What about the story line, was it kid-friendly?
I thought it was very kid-friendly. If you see monsters in a Pixar movie, it's going to be funny.
Did you or your daughter have a favorite character or scene?
Makeila: When she turned giant because it was before her wedding. She just kind of blew up and became this huge giant and broke everything and scared everybody.
Nikki: My favorite was when they were trying to get out of the alien ship. She (Ginormica) went back to get her friends. She had changed to not be a monster, but she became a monster again to save her monster friends.
On a scale of one to four stars, what would you rate this movie?
I would say ★★★★. I really thought it was a great kids' movie.
To whom would you recommend this movie?
I would recommend it to kids under age 10.
Would you buy this movie when it comes out on DVD?
Yes.
Favorite movie snack?
Popcorn and Raisinets. We always get that.
What's new?
We have a new menu coming out at Auntie Pasto's Beretania. We're changing the pizzas and have a couple of new entrees.
Most Recent Comment(s):