Wednesday - March 21, 2007
By
.(JavaScript must be enabled to view this email address)

Movies Showtimes
Share

300
Patrick Freitas
ICON Sport Promoter
As Told To Melissa Moniz
Where and with whom did you see the movie?
Signature Pearl Highlands with Mark Kurano.
Overall what did you think of the movie?
It was mediocre.
Did you go in with any expectations, and if so did it hit or miss those expectations?
What I expected was pretty much what I saw. I expected a real flashy, artistic film that emphasized cinematography. And unfortunately, that's all it was.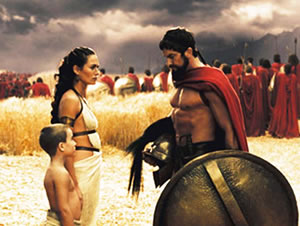 So were you disappointed with the plot?
I was absolutely disappointed with the plot, which was too bad because I am kind of a geek down inside and I grew up reading Greek mythology. I grew up reading about these Greek wars, and I was excited about the movie. But it lacked two major things - it lacked character development and it lacked a plot. It had no story and essentially the entire movie was this one fight, but there was no real complexity added to it.The whole movie was just one scene after another with the exact same fighting sequences. But here are the plusses. From a cinematography standpoint, it's absolutely one of the most amazing pictures visually that I've ever seen. It's dazzling and it's amazingly beautifully shot, and there's really no other movie like it.
Sharing the same director with Sin City, how would you compare the two movies?
In terms of how it's shot that sort of eerie darkness that's matched with an MTV-style, flashy-type editing.To compare apples and oranges, Sin City was just a way better plot line and you really felt like you were really living a comic book. In 300 it felt really two-dimensional.There really wasn't much depth to it.
How would you rate the acting?
The acting was appropriately over-thetop. It's not like great acting, but for the movie that it was in, which is this flashy, big-budget sort of film, it fit. One thing I look for when I watch movies is, in the dialogue are the actors speaking to each other or at each other? And in 300 it felt like the whole time it was a lot of people talking at each other. Like everyone is giving speeches and people don't speak that way in real life.
Is it a movie that you would see again?
On home video, but not in the theater.
In a four star rating, with four being the highest, what would you rate it?
Two stars.

What's your favorite movie snack?
My favorite movie snack is Junior Mints.
Who is your favorite actor?
My favorite actor has gotta be

(Robert) De Niro.
What's new?
Right now the biggest thing in my life is the March 31 world title fight between Frank Trigg and Robbie Lawler at the Blaisdell. It's also the return of Mayhem Miller, and Hawaii gets to meet its next biggest star, Po'ai Suganuma.Those are the big four big features. And also the return of Charuto, Hawaii's sort of favorite Brazilian jujitsu expert. We are continuing to work on our weekly TV show,
Next week: a new movie, a new celebrity
Most Recent Comment(s):