Wednesday - June 13, 2007
By
.(JavaScript must be enabled to view this email address)

Movies Showtimes
Share

Mr Brooks
Bill Jarvis
President and CEO of Mobi PCS
As Told To Melissa Moniz
Where and with whom did you see the movie?
I saw it with my wife at Kahala Mall.
Overall what did you think of the movie?
I didn't like the movie.
Was it not your type of movie, or was it a bad movie in general?
I think a little of both. It built itself as a psychological thriller, but it was a lot more horror movie blended into a regular movie.
But I also thought the movie left a lot of unanswered questions. In addition to the regular plot, there were a lot of subplots that sort of meandered into nowhere and left you with more questions than answers.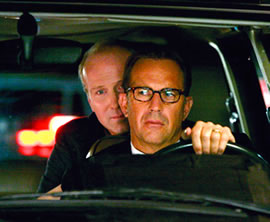 Were the plot and theme of the movie original?
I definitely thought it was original. And there was a really interesting part of the movie in that he was a serial killer who was also a successful entrepreneur, and they made his alter ego a real person that sort of followed him around and would show up from time to time.The debate between the serial killer and his alter ego, who was the real demon, was pretty good.
How would you rate the acting in the movie?
I thought that William Hurt, who is the alter ego, was very good. I thought Demi Moore was not very good at all.And I thought Kevin Costner was reasonably good.
Did the movie have any special effects or anything that stood out with the cinematography?
On balance I thought it was shot pretty well, but you never had the feeling in the movie that it was an epic event.You never were like, wow look at this and the symbolism of this scene. No.
What type of audience do you think would possibly enjoy the film?
I think people who lean a little more toward horror movies and who like the sheer suspense of the movie more than the plot. The plot itself was a little far fetched, but you were tense the whole movie.With that being said, you didn't feel like there is any conclusion at the end. It just sort of left a lot of things up in the air.
Do you think a lot of things were left unresolved with the intent of filming of a sequel?
I actually thought about that, but I don't think it was quite as deliberate as that because they just didn't develop a lot of the plots. So it felt like a movie that was doing too much.
In a four star rating, with four being the highest, what would you rate it?
I give it one star.
What's your favorite movie snack?
Milk Duds.
How often do you go to the movies?
Go or rent, probably once every couple weeks.
Who is your favorite movie buddy?
My wife.
What's new?
We're (Mobi PCS) launching the Neighbor Islands soon, and we're expanding with more locations toward the end of the quarter. We launched a new family plan this month, and we're launching local data content in a month
Next week: a new movie, a new celebrity
Most Recent Comment(s):