Wednesday - January 04, 2006
By
.(JavaScript must be enabled to view this email address)

Movies Showtimes
Share

Munich
Movie Review with Mike McCartney
President and CEO of PBS Hawaii
As Told To Katie Young
Where and with whom did you see the movie?
I went to Ward Theatres with our PBS director of community relations, Lacene Terri, and our vice president of programming, Ed McNulty.
Overall what did you think?
I thought it was great. I remember that event when I was 10 and it changed the Olympics forever. Now I see how it changed the situation of the world forever too. I liked it because it was a true story and it revealed aspects that I didn't know. It was entertaining, educational and intense.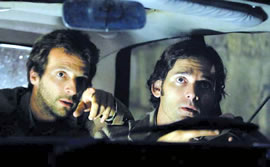 What was your favorite scene?
The end, which I don't want to reveal, but the end when they show the credits, it's Steven Spielberg sending a little hidden message.
For me, this movie is the dichotomy between good and evil and the huge gray in between, and how humans struggle with that. It's not just about countries and government, but about people. What you try to change you become and then you question yourself.
Did you have a favorite character?
The hero in the movie. You can really see his loyalty to country and loyalty to his family and traditions and how he's torn between his personal life and what he should do. I think that applies to all of us. I see that in today's world, too. He had to make a lot of sacrifices.
How would you rate the acting?
It was good. The acting was excellent and there were a lot of action scenes - a lot of suspense. There was also a lot of historical footage that puts it into context. It keeps you going. It's a long movie, but there are always things in there that are unexpected, so it's suspenseful.
Did the movie have a meaning?
I would look at the end and I'd say the struggles still continue today. I think the deeper meaning is how do we as a world respond when we think we are wronged? How do you respond and how do you make those choices? It's a heavy movie. For me, this film causes more reflection than it being something that is just entertaining. I'd like to take my son to it, he's 16.These are the kind of choices he's going to have to make. But I think my 11-year-old is a little too young.
What was the best/worst aspect about the movie?
Maybe the fact that it's a little too long would be the worst aspect. I think the best aspect is that it is classic Spielberg. He makes you feel the pain in your heart as well as making you think with your head. It's the clash between your head and your soul. It's life.
Is it a movie that you would see again?
I'd see it again and take my son. It's something you definitely want to talk about after.
To whom would you recommend the film?
I think a lot of young people should see it. It is a part of history, and it's the new wave of how Americans label the terrorist movement and the responses that happen with it. I think it was well-done. It was fair. What Spielberg did also was show the Palestinians side. I came away from this movie knowing there's always two sides to the story. It causes you to pause and take a look.This movie is for young people who will have to make choices about their future and our futures.
On a four star rating, with four being the highest what would you rate the movie?
Three 1/2.
What's your favorite movie snack?
An all-beef hot dog with mustard and jalapenos.
What's your favorite movie?
Pay it Forward because it's about hope. It's about how we can actually make the world better.
How often do you go to the movies?
Rarely.A few times a year because of family and kids. I know I'll be going to a lot of Disney movies soon with my 2-year-old.
What genre of movies do you like?
I like movies that have a message - movies that inspire and give hope. I do like biographies in the sense of portraying real-life people. I like to see movies that when I walk out I get inspired to be a better person.
Who's your favorite actor/actress?
The guy I still like is Robin Williams because he has played so many different characters. He hasn't been afraid to play a woman or a gay guy and take them on in a way he's trying to show people there are different meanings in life. He can be serious and funny at the same time.
What's new?
We're celebrating our 40th year of public broadcasting here at PBS. I have the greatest job in the world. I can watch TV all day and then go home and lie on the couch and watch TV, and when someone asks me what I'm doing, I say "working." I've been here five years since I left government. It's been a good personal learning experience and a good opportunity. I don't know what the future holds for me, but maybe someday I'll get back into public service.The biggest challenge we have at PBS now is we're working to convert everything to digital. It's a $9 million project. Next, we're trying to secure a home for the future. We'd like to stay at the university, so we're trying to negotiate a new lease.
Next week: a new movie, a new celebrity
Most Recent Comment(s):