Wednesday - October 01, 2008
By Kerry Miller

Movies Showtimes
Share

Melissa Pampulov
Director of Marketing and Communications, U.S.Tennis Association Hawaii Pacific Section
Where and with whom did you see the movie?
I went to the Koko Marina Theaters with my sister Joanne Gatmaitan.
Overall, what did you think?
I thought it was really funny and actually kind of realistic.
How does this movie rate as a romantic comedy? Was it predictable, and were you happy with the way things turned out for the characters?
It was definitely predictable; it is a Hollywood movie. I thought it was just really interesting how everything unfolded.
There are two different guys out there, Mr. Right and Mr. Right Now - there are good guys and the jerks. It was really interesting how they portrayed the guys in the movie. It was kind of like how events change when the jerk meets someone he really likes, there's actually goodness about him.
What about the acting, did anyone stand out?
I thought that Dane Cook was an over-thetop jerk. It was just really interesting to see it like totally animated, to see how wacky dates can be.The American Pie guy (Jason Biggs) kind of captures that goofy role. I really did dig Kate Hudson's personality. She was really down to earth and like a normal girl kind of trying to figure things out. Alec Baldwin, he was just funny because he played Dane Cook's dad, and you see where that comes from. He just stepped up to that role.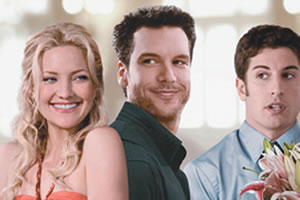 On a scale of one to four stars, what would you rate this movie?
I don't think it will be a major blockbuster, I give it ★★★. It's just funny to watch. I think all girls have encountered a jerk like that or a situation like that.
To whom would you recommend this movie?
Definitely go with your girlfriends.
Favorite movie snack?
Popcorn's always good.
What's new?
We have this really exciting charity tournament coming up; it's called Play For The Cure, on Sunday, Oct. 5, at Central Oahu Regional Park, the tennis facility out there. One hundred percent of the proceeds will go to Susan G. Komen for The Cure. So many people have been touched by breast cancer, and it's something that we all want to support.
We've gotten a lot of interest from the tennis community to come out and show support and give back.Miki Haught,she was diagnosed and treated for breast cancer a year ago. Tennis has been a really big part of her life. It's a really, really great story she has to share. She's our spokesperson for this. More than anything we'd like people to participate. It's a $100 donation, just a round robin-kind of tournament.They can go to our website, www.hawaii.usta.com, or they can call 955-6696.
Most Recent Comment(s):