Wednesday - June 28, 2006
By
.(JavaScript must be enabled to view this email address)

Movies Showtimes
Share

Nacho Libre
Movie Review with Ricky Thunder
Rock Star Ricky Thunder Professional Wrestler
As Told To Melissa Moniz
Where and with whom did you see the movie?
I saw the movie at Pearlridge and it was with a couple of friends.
Overall what did you think of the movie?
Overall the movie was funny and hilarious.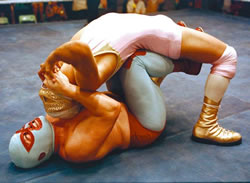 Did you go in with any expectations? If so, did it meet or miss your expectations?
From looking at the previews, I kind of thought the movie was going to be a little more toward wrestling. I was surprised that the movie was more toward his story of why he was going into wrestling.
Did you have a favorite scene?
My favorite scene had to be before the big match. He was singing and it was just a funny moment for everybody. It's just the way he was singing. It was kind of witty in a movie that's supposed to be about wrestlers and how they are all about the money. Actually that part kind of twisted me up because it was a hard shot at those who make it to the top. But most of us do it for the love.We always wanted to do it as a child and saw them on TV, and we want to portray who they are in the wrestling business.
Was there a message or meaning that tied the movie together?
The message of it all is if you really believe in something and have the heart to do it, then it's possible.That's pretty much the mainframe of professional wrestling and how most people get in. If you really believe that you can do it, just do it.
Did you have a favorite character?
Not really a favorite, but probably the character I liked the most was Jack Black's character.
How would you rate the acting?
The action was a little over the top, but I guess it was part of the hilarity. In the ring, I thought it was a little different story because it was a little too over the top and sometimes poking fun at the profession that we do.
So did you take offense at the movie?
I wasn't offended at all. I knew it was basically a comedy. I also kept an open mind because this guy isn't a professional and I didn't really expect much in the ring.
In a four star rating, with four being the highest, what would you rate it?
Two .9 Stars. Not quite three stars.
What's your favorite movie snack?
I guess it would have to be Bon Bons.
What's your favorite wrestling movie of all time?
Every single wrestling-related movie of all time kind of sucks. I guess because there's too much wrestling which belongs in the professional wrestling circuit and not really in the movies.And sometimes the story is just too weird.
How often do you go to the movies?
Not that often anymore, but I would say like two or three times a month.

What's new?
The next match coming up is going to be on July 4 at Pearl Harbor. I'm not really sure what the time is because things change. Other than that, my training schedule is three times a week of lifting and two times a week in the ring. It's tough on the body, especially lifting weights and training because of the fatigue and all the bumps and bruises we get in the ring. Someone told me before that I'm crazy for being in this business.Well, I guess I am crazy because anyone has to be crazy to do what we do night after night.
But I love it.
I know you mentioned that some of the wrestling in the movie was misconstrued. What do you think is the biggest misconception about wrestling?
It definitely has to be that wrestlers don't get hurt and that it's fake. Whenever someone gets thrown to the mat or whatever, it does hurt.
Next week: a new movie, a new celebrity
Most Recent Comment(s):