Wednesday - February 11, 2009
By Kerry Miller

Movies Showtimes
Share
Cynthia Wong
Co-creator of Project Singles
as told to Kerry Miller
Where and with whom did you see the movie?
I actually watched it by myself at Koko Marina 8 Theater.
Overall, what did you think?
I loved it. I wasn't expecting too much, but I was won over.
What about the acting. Did anyone stand out?
I love Renee Zellweger. Her performance was great.
How was the romance between Renee Zellweger's and Harry Connick Jr.'s characters? Did they have good onscreen chemistry?
I thought it was really cute, really warm; it was OK. Actually, I love Renee Zellweger, but in this particular film, I thought she may have overdone it a little. But still a lovely story none the less.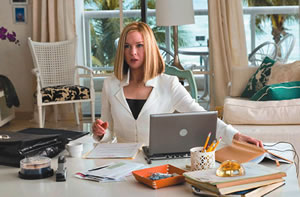 What was one of your favorite scenes or characters?
I loved her (Zellweger's character, Lucy Hill) secretary, Blanche. She's so cute with her accent and her personality. On the surface, she seems clumsy, but she gets a lot done. She's a bubbly character.
On a scale of one to four stars, what would you rate this movie?
I would give it ★★★.
To whom would you recommend this movie?
I think anyone can watch it. It's a pretty gender-neutral film, but I think women would enjoy it more.
How often do you go to the movies?
I actually don't go to the theater too much. I watch a lot of movies at home.
Would you buy this movie on DVD?
No, not for myself, maybe as gift for a friend.
What's new?
We just had our first event at Bonsai. Everyone had a great time. We had 14 pairs, and at least one pair left hand-in-hand giggling.
Valentine's Day we have a singles-only mixer. They can go to www.projectsingles.net to get on our mailing list. All the updates are on the website. We also have a meet-up group we created. It's on facebook, myspace - we're everywhere.
Most Recent Comment(s):