Wednesday - December 16, 2009
By
.(JavaScript must be enabled to view this email address)

Movies Showtimes
Share

Leilani Soon
Miss Hawaii Chinese Queen 2009
Where and with whom did you see No Puedo Vivir Sin Ti?
I saw it at Kahala 8 Theatres with a good friend of mine.
Overall, what did you think?
I had a personal connection to it because I've been to Taiwan,and when I saw all the street signs and whatnot it just was very familiar to me.
On a scale of one to four stars, what would you rate this movie?
I'd give it ★★★★ because although it's not flashy and violent or full of special effects like American movies, its simplicity and storyline were just really touching. It centers in on the human element and makes it very unique.
Since this was one of Consolidated Theatres'"Spotlight Asia" films, I'm curious: Were there subtitles or was it dubbed over?
Actually, they spoke in Mandarin and Taiwanese, and the movie had English subtitles, so it's great for anyone who speaks any of those three languages.
And how was the acting? Did anyone stand out?
The acting,to me,was very natural.Their acting seemed like their real life, so I think all of the actors did well. Especially the dad (Chen Wen-Pin), because he really showed his heartache well with trying to get his daughter (Zhao Youxuan) in school against the government's regulations.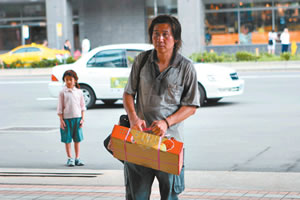 Did you feel that you could relate to any of the characters?
I felt like I could relate when the dad was trying to register his daughter at all these different agencies. I think that the people who were helping him didn't really see him,just his outward appearance,and I know a lot of times I take people at face value, but I saw how it's just so important to get to know and understand the person on the inside.
Did the soundtrack contribute significantly to the film?
The soundtrack was beautiful.There was a lot of piano music and it kind of reminded me of stuff a little girl would listen to or play when learning to play the piano. I plan to look for it online and would like to buy it if I can find it.
And how was the cinematography?
It was shot in black and white and just made you focus more on the emotion rather than the picture alone. I think that really helped contribute to the tone of the film.
Was the film's message clear?
In the beginning it moved a little slowly,but the rest flowed pretty smoothly.In the end,the daughter came back to him,so,to me,the theme was that true love will triumph in the end.
Without giving away the ending, what was one of your favorite scenes and why?
One of my favorite scenes was when they were going on a road trip from the south to the north and it showed them on this motorcycle and there were all these windmills in the background,and it was all very beautiful.I mean, it showed them eating a mango they picked together, and though it was so simple it just really demonstrates how much they loved one another.It showed how much parents can love their children.
To whom would you recommend this movie?
I'd recommend this movie to anyone who enjoys mellow,touching films,so anyone that wants to be reminded of the bond that parents and children share,and people who like dramas will like it because it is definitely a dramatic story.It's just simple,sweet and touching.
On a different note, what's new with you?
Well, I was crowned Miss Hawaii Chinese Queen 2009 about four weeks ago, and I feel very blessed and honored to have this title.My main thing right now, though, is preparing for the Miss Chinatown USA competition next year on Feb. 20 in San Francisco. I am also about to start my own business for dance lessons and will teach sign dance, which is using sign language to interpret lyrics. I will teach hula and dance at parties and celebrations as well. If anyone is interested in contacting me for dance lessons, e-mail me at .(JavaScript must be enabled to view this email address).
Most Recent Comment(s):