Wednesday - May 05, 2010
By
.(JavaScript must be enabled to view this email address)

Movies Showtimes
Share

Stuart Coleman
Hawaii Coordinator, Surfrider Foundation, and author, Fierce Heart
Where and with whom did you see Oceans?
I saw it at Kahala Mall with my girlfriend Karen Lee.
Overall, what did you think?
The imagery is fantastic - it's just amazing and hypnotic. At one point they kind of compare it to exploring other worlds and outer space, and some of these creatures definitely look like they're from other worlds, which makes sense since we've only explored less than 5 percent of our oceans.It's odd to think we know more about the moon than our own waters.
On a scale of one to four stars, what would you rate this film?
For imagery,I'd give it ★★★★ because it's so beautiful. For storyline and information I'd give it ★★ 1/2, because I just wanted more. It's kind of a hybrid ...
it's not quite a documentary and it's not quite a feature film, and I think that was kind of the problem because it lacked a central storyline.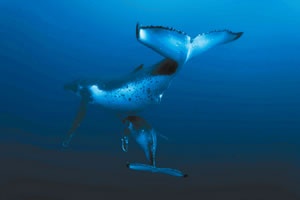 Was the film's central idea clear?
It was designed to celebrate nature, but in the last 15 or so minutes of the film they show how much our environment and Earth's creatures are in trouble. It almost seems like it was too little too late, though, because the oceans really are under a major threat, and I don't think that was emphasized enough. I know this was a family film to celebrate the beauty of the ocean,but we're kind of at a crisis point,so I wish they would've captured that more avidly.
What was one of your favorite scenes?
There's one feeding frenzy scene of a whirling tornado of smaller fish, and there's just dolphins and sharks and whales all feeding on them. It was really breathtaking.
How was the narration?
It was narrated by Pierce Brosnan, who's a real ocean activist,and Disney (Disneynature) did all they could to make this film spectacular.You just wish there was a little more information, though, about some of the environmental threats. That would've helped.
How do you think local audiences received the film?
The premiere was on Wednesday night (April 21) and there were more than 250 people there, so that turned out well. We also had 100 people take the Save My Oceans pledge April 22 to reduce their negative impact on the environment.
Is this a film Hawaii residents (and the rest of the world) need to see?
Absolutely. Last weekend at Ala Wai Canal we did a cleanup and pulled seven shopping carts from the water. We also found a scooter, a fax machine, two computers, an AC unit and all kinds of other trash in there ... incredible stuff that we pulled out. People don't realize that everything we put in our streams and canals eventually ends up in the ocean - fertilizers, debris, chemicals, you name it. People have been asking what is the ocean, and at the end Brosnan says,"We shouldn't ask what the ocean is, but what we are." Our bodies have almost the exact same salinity as the sea and, like the earth, we're made up mostly of water, so when we pollute the ocean it's like polluting ourselves. Plus, tourism is No. 1 for our economy here, so we can't have pollution detracting from that.
On a different note, what's new with you?
The Surfrider Foundation is having a beach cleanup from 10 a.m. to noon May 22 at Queen's Beach in Waikiki, and this is something we do to protect our shorelines and keep our ocean clean here in Hawaii.We ask that people bring their own bags and water and we'll provide food and prizes. Go to www.surfrider.org/oahu for more information.
Most Recent Comment(s):