Wednesday - January 16, 2008
By Kerry Miller

Movies Showtimes
Share

Miwa Ogletree
One Missed Call
Miwa Ogletree
Sales and Marketing Consultant
As Told To Kerry Miller
Where and with whom did you see the movie?
It was at Victoria Ward Theatres, and I took my friend's daughter, Mizuki Ogawa.
Overall, what did you think?
It was the worst thing. It wasn't scary at all. I wouldn't probably pay money to go watch it.
What about the story? Was it believable?
Basically, it starts out with a girl who gets a message. When she tries to listen to the message - it was from someone who had already died. The person who receives the message dies also. A new person dies at a future date, and whoever receives a message from that person who has just died ends up dying.The main person was trying to figure out what was happening. The main character, she gets the phone call, but (she says) before I die I'm going to figure out why this is happening. She traces back who died first. She gets hooked up with this policeman. He had a sister who died.They trace it back to a family who had a syndrome, where the mother hurts her kids. It was this family with an abusive mother, every week she would bring a daughter to a hospital with cuts, bruises.There was a fire (at the family's house), only one girl survived and she (now) lives in an orphanage.The sister who died in the fire was actually the abuser. She was going around planting messages, to try to keep killing. There was no connection as to why these people are getting killed.The only reason why was the fact that they were just friends.
What the director was probably trying to do, because the cell phone is so trendy, is try to catch on to a new trendy thing. I heard this movie was originally made in Japan, so maybe something got lost in the translation.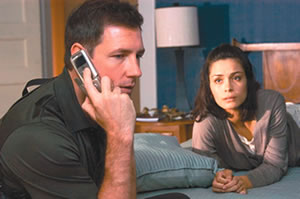 When you watch a scary movie, do you look for certain elements?
For me, the scary factor is whether it's realistic or not. In this movie, when they try to track down the sister, they find the mother, who was half dead, and she starts moving.There's no way that would happen.The scariness comes from whether you can relate to it. (If you can't relate) you lose the scary factor and it becomes really fake. In a movie like The Exorcist, it could really happen. It's more spiritual. That's the kind of scary you could look for. To me, that movie with "Chuckie" (Child's Play), that's not scary at all.
Is it similar to other scary movies you've seen?
It was kind of cheesy "B movie."
What about the acting? Did anyone stand out? Any famous actors people would recognize?
I didn't notice any of the actors.The main girl, I think she did pretty good. The acting part of it was OK.
To whom would you recommend this movie?
I wouldn't.
On a scale of one to four stars, what would you rate this movie?
I would say ★.
Favorite scary movie and why?
The Exorcist is one of them.The original one. Even The Omen. Evil, spiritual things.
Favorite movie snack?
Of course, popcorn, and Icee.
What's new?
We are trying to solidify the "Ghosts of Oahu" tour, that's the most popular (Ogletree is a sales and marketing consultant for Oahu Ghost Tours). Last year we had the same amount of walking tours, this year we increased the driving tours. There is another called "Sacred Spirits," a cultural tour on weekends. It's not scary, but very educational. They take you to a waterfall I didn't even know existed. I'd love for people to experience that, too. I was thinking of making a campaign T-shirt that says "Got
Next week: a new movie, a new celebrity
Most Recent Comment(s):