Wednesday - August 24, 2011
By
.(JavaScript must be enabled to view this email address)

Movies Showtimes
Share

Rev. Dennis Kamakahi
Award-Winning Musician
Overall, what did you think of the film?
This film was one of the few I've been involved in that I really enjoyed being a part of, having done many film projects in the past. The work that went into this project is phenomenal and goes in depth into the lives of these students, who gave the film crew the opportunity to document their daily lives for one year.
On a scale of one to four stars, how would you rate this film?
I'd give this film ★★★★.
Was the message/theme of the film clear?
The message of this film was very clear. It presented a day in the life of a Kamehameha student song leader, and the emotion and maturity of each individual.
What does this film represent in relation to the broad goal of perpetuating Hawaiian culture, language and history?
I am a graduate of the Kamehameha Schools Class of 1971, and identify with the trials and tribulations of each class songleader and the emotional toll it takes on them in the preparation of an important music tradition and competition.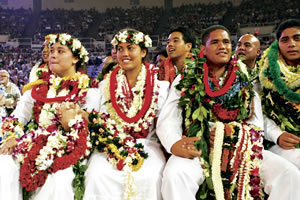 Did it remind you of any other work in film?
Similarities to other documentaries are evident, but this time a film focused on a music tradition, the preparation and delivery of songs at the Kamehameha Song Contest. I can't think of any other documentary that focused on Hawaiian choral music from a student's point of view, or for that matter, the emotional roller coaster involved.
Who would you recommend this movie to?
I would recommend this movie to everyone of all ages regardless of cultural and ethnic backgrounds.
On a different note, what's new with you?
I am presently preparing for another concert tour to Vancouver, B.C., Seattle, and Whittier College (Calif.) in the latter part of September. I am also in the process of recording a new CD in a joint venture with my slack key guitar student, Stephen Inglis. We both will be involved with a California concert tour in October to include the cities of Concord, Berkeley and Folsom.
Editor's note: One Voice makes its limited release debut in Hawaii Friday at selected Consolidated Theaters. Visit ConsolidatedTheaters.com for more information, showtime information and to purchase tickets. Consolidated Theaters will donate 10 percent of the film's proceeds to the Ke Ali'i Pauahi Foundation the nonprofit charitable support organization of Kamehameha Schools. The foundation's mission is to perpetuate the legacy of Princess Bernice Pauahi Bishop by seeking and developing new and diverse sources of income to support the ever-increasing educational needs and goals of people of Hawaiian ancestry.
Most Recent Comment(s):