Wednesday - September 14, 2011
By
.(JavaScript must be enabled to view this email address)

Movies Showtimes
Share

Al Waterson
Professional Singer, Emcee and Actor
Overall, what did you think of the film?
My wife, Nancy Bernal, and I thought it was a really funny movie. It is definitely not a movie for the younger folks or the prudish! I think Paul Rudd played the role of the hippy-dippy, ne'er-do-well, loose-tongued brother perfectly.
His innocent gullibility was hilarious. If you're not into foul language and nudity, skip this one!
On a scale of one to four stars, how would you rate this film?
I rate it ★★★.
Was the message/theme of the film clear?
Yes, that there are a lot of dysfunctional families out there!
Did you identify with any of the characters?
Yes, I did. I think I identify with the main character, Ned (Rudd). He sometimes innocently repeats things he hears or sees not worrying about what others say or think. And his love for his dog, (named Willie Nelson) is exactly how I feel about all animals. If I had it my way, all the homeless animals of the world would be living with me. Anybody have an ark they can give me?
Did it remind you of any other work in film?
I can't think of any I've seen that was this off-the-wall.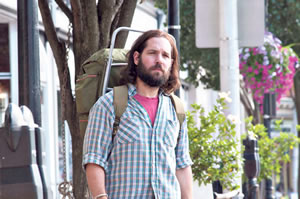 Who would you recommend this movie to?
I guess anyone of the proper age with a sense of humor. This film is definitely not for children.
Would you buy this movie when it comes out on DVD?
No. Once I've seen a movie, another viewing isn't as much fun as the first. If I'm home and it comes out on HBO, I may watch it again.
On a different note, what's new with you?
I continue to emcee black-tie events, wedding receptions, expos, conventions and concerts, including the Apaulo Smooth Jazz Concerts and the upcoming Pacific Rim Jazz Festival Oct. 29. I also sing at special events and perform once a month at the private Elks Lodge in Waikiki. I've been busy doing radio and television voice-overs and commercials, including the "Godfather" commercials for Hawaii Self-Storage. In addition, I play the character of Pet Detective Al Fadog doing reports on lost animals on The Pet Hui television show on OC-16. Log on to AlWaterson.com for more details.
Most Recent Comment(s):