Wednesday - June 16, 2010
By
.(JavaScript must be enabled to view this email address)

Movies Showtimes
Share

Liana Green-Wright
Professional Model and Founder, Starry Eyed Productions
Where and with whom did you see the movie?
I saw it at Kahala Theatre with my husband, Matt Wright.
Overall, what did you think?
It was adorable. When it first started out in Japanese, I had completely forgotten that it was going to be dubbed with English subtitles. I think, though, that it should eventually be dubbed in English so more children can enjoy it.
On a scale of one to four stars, what would you rate Penguins in the Sky?
I'd give it ★★★ 1/2, but only because I think they could reach a broader audience if it was redone in English. Plus, I'm an animal lover, so that was a big factor, and the visual aspects of the movie were really beautiful.
Was it obvious that it was more of a documentary?
It was, but they did a good job making it not seem too dull and preachy. They had beautiful cinematography, and there was still dialogue going on, and they really laid down a beautiful story within it all. I think they tried to add some drama to the film, but I don't think it was even needed. It was very entertaining.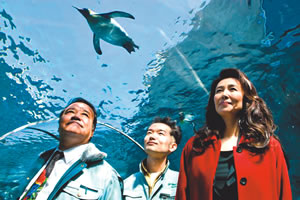 What stood out the most in the film?
It would have to be the cinematography.The story was great, but the focus on the animals was just so fantastic - it was better than watching the Discovery Channel. As I said before, since I'm an animal lover, I loved just about everything about this film.
Was the movie's message/theme clear?
Whatever you believe in, you can achieve it ... that was the bottom line. If you really work hard at something and have at least one person believing, it can be infectious. The zoo director was so passionate about keeping his zoo alive, that desire started to pour into the new zookeeper and just progressed from there.
It had a "one goal, one mind" feel to it all.
Did it remind you of any other work of film?
It's almost like Little Giants, because even though there were no animals in that movie, they still faced such opposition and yet believed in themselves enough to push through.
Did the soundtrack contribute significantly to the film?
I didn't really pay much mind to the music, but it wasn't distracting. It was very smooth and nice, but I was just so into all the animals and what was going on that I didn't really pick up on it.
To whom would you recommend this movie?
I think if you love animals and love happy endings, this is a great movie for you. I think adults of all ages would enjoy this film simply because of the message and the beauty of what they show, but kids, they don't necessarily have to understand what's going on with the subtitles to enjoy this. I wouldn't suggest anyone younger than 5 years old seeing it though, just because they might get restless.
On a different note, what's new with you?
First of all, my mom has been designing clothing for years, and she's just recently started to get out there and show her line, A Touch of Estrellita, so I'm helping her with that. I'm also shooting for an end-of-August date for an upcoming fashion show to model New York's Fashion Week. I'm collaborating with two charities to benefit their causes, and it's really just all about fashion and giving back. We'll feature several top local designers as well as a few from New York. It'll be something fresh and exciting for Hawaii, and truly benefit some great causes. I'm also giving up my Mrs. Hawaii crown in July, which is bittersweet, but I had a great year and had the opportunity to serve my state as well as several charities. It wasn't just a crown for me, but I'm excited to pass it on to the next young woman now that my time is up.
Most Recent Comment(s):