Wednesday - November 25, 2009
By
.(JavaScript must be enabled to view this email address)

Movies Showtimes
Share

Danielle Tucker
Air Traffic Reporter, Cox Radio Hawaii
Where and with whom did you see the film?
I saw it at Dole Cannery Signature Theatres with my husband, Rick Gray.
Overall, what did you think?
Loved it! It's probably, well, I know this isn't the right word to use, but still, it's the "funnest" movie I've seen in a long time. It's the only way to describe it! It was this great story of all of these radio jocks in the middle of the ocean on a ship,unable to have any contact with girls except for every two weeks, and just how they lived together and the way they showed their dedication to their craft was outstanding. It was all about being in an "evolution revolution" kind of time. To be a part of it gave you a stronger feeling of being in a family than you felt in your own family at times. It was a fun, "you can't win because the music will live on and we are the music" kind of time in history.
On a scale of one to four stars, what would you rate Pirate Radio?
OK, it's not gonna get an Oscar, but I'd give it ★★★★ for entertainment value alone.
How was the soundtrack? It had to have played a big role, right?
The soundtrack was absolutely amazing! They have so many years of music wrapped into this, and even if you don't know the music of that time, the story had everything you would want - the comedy, the drama, the romance, the deep characters, the good vs. evil - it was all there.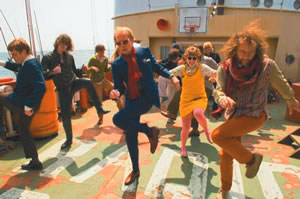 Did it seem accurate for the time period?
Absolutely. When I was in London in 1969 pirate radio was huge because everyone wanted to hear rock 'n' roll, but the government didn't want them to.When the government tried to make pirate radio illegal, the people took it to the streets.
What was one of your favorite scenes?
At one point they're at sea and they think they're going to die, and this one old radio jock won't let go of all his albums, and he's drowning because of them. So these guys are trying to rescue him, and he finally decides to let go of all of them except his favorite LP, and is able to be saved. (Laughing) But then the guy who rescues him grabs this one LP that he'd saved and gone through all that trouble for and looks at him and says,"This is the worst album ever made!" and throws it back in. It was hilarious!
To whom would you recommend this movie?
I'd recommend it to anybody who loves The Beatles and is interested in rock 'n' roll. I wouldn't take my kids to this because of the sexual aspects of it, but I'd recommend it to young adults and people who lived through the '60s and - how do I put this? - I'd recommend it to all of my friends and family.
Was the movie worth the ticket price?
It was definitely money well spent. I had a blast. I came out of there in a good mood. From the inside, having been in radio for longer than I'd like to admit, seeing the way they used the mics and used their imaginations and make you feel like they were talking to you, it was just amazing.Things like that are often lost today. It made me go "Wow, that's what made me get into radio."
So on a different note, what's new with you?
Well, as everyone knows, I do the traffic reports on all the radio stations, but I also have my own golf show.You can find out more about me on http://www.radiogolfclub.com. Also, starting in December we're giving away another trip to Las Vegas for two, so listen out.You can bring your confidante, because hey, what happens in Vegas, stays in Vegas!
Most Recent Comment(s):