Wednesday - June 06, 2007
By Lisa Asato

Movies Showtimes
Share

Pirates of the Caribbean
Toby Tamaye
President, AT Marketing
As Told To Lisa Asato
Where and with whom did you see the movie?
With my wife, Hitomi, at Ward Theatres. It was sold out.
Overall what did you think of the movie?
It was a good summer blockbuster movie.It hits the major elements you're looking for in a good summer movie - action, comedy, adventure and romance.Two major characters even get married in this film,although I'm not saying who got married. I'm just saying two major characters got married.
The movie ran very long, though.It was three hours so it was a little bit too long,and except for the battle scenes it could be extremely boring, especially for moviegoers who aren't familiar with the story lines of this movie franchise.
Many of the story lines from the previous films are completed in what is the final episode of the Pirates of the Caribbean movie saga.
What was your favorite scene?
The end battle in the whirlpool was very entertaining. It is one of those "how did they do that" types of scenes. Lots of explosions, lots of rain and lots of sword battles, all at a 45-degree angle. Very impressive.
Did you have a favorite character? Why?
Captain Jack Sparrow.I think almost everyone who watches this movie is attracted to Jack.His comedic approach to this movie franchise has helped in its popularity. I like his character, but it's very difficult to understand him when he is speaking because he mumbles.
Also, while this may be the final film of the Pirates series,I would not be surprised to see a Jack Sparrow movie spinoff from this franchise.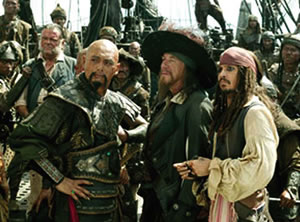 How would you rate the acting?
There are fine actors in this film. Keira Knightley's character Elizabeth Swann is the best portrayed because her character has really become part of all the action sequences. Compared to her role in the first movie, she has really developed into a swashbuckling pirate. I like the addition of Chow Yun-Fat in this movie and he really looked good in his role.
How were the special effects?
My favorite special effect of this film is Davy Jones'octopus face mask.The tentacles of the mask constantly move throughout his appearances.The battle scenes are very impressive with part of ships, people and stuff flying around. There was also a scene where an army of white rock crabs move the Black Pearl ship over a desert and into the ocean.
Did the movie have a meaning? (Like a deeper, overall message)
Yes, that death means nothing when you are a pirate. When we left Jack Sparrow in the second film, we saw Johnny Depp's character being eaten by a giant squid, and I was a bit shocked at the time because I thought he was the franchise character of the film.So I first came into At World's End to see how they would make Jack live again.
Jack is saved by someone else coming back from the dead - Captain Barbossa,who Jack killed in the first film.
It seems both of them had to be alive so that nine pirate lords can participate in the final battle. One of the pirate lords is Keith Richards from the Rolling Stones,who was born to look like a pirate!
What was the best/worst aspect about the movie? Why?
The best part of the movie is I have a deep respect for Jerry Bruckheimer,and I think he is the master of special effects and creating the most memorable movie (and now TV) scenes ever filmed. I don't think there was ever a movie I watched that he produced that failed to deliver his signature entertainment.
The worst part is the movie is three hours long.
Is this a movie that you would see again?
Probably not.Disney made the movie too long to get my repeat business at the theater. On DVD though, it's possible.
To whom would you recommend the film? Why?
This film will satisfy most audiences, although if you didn't see either of the first two installments,aside from the battle scenes,this movie is going to be very boring.
What other movie would you compare this movie to?
Star Wars.Could Chow Yun-Fat be the new Jabba the Hutt? Is Jack really Han Solo? Luke Skywalker is Will Turner and obviously Elizabeth Swann is Princess Leia.
In a four-star rating, with four being the highest, what would you rate it?
Three stars.
What's your favorite movie snack?
Popcorn with extra butter.
What's your favorite movie? Why?
It's between Titanic and another Jerry Bruckheimer movie - Top Gun.Both major classics and I am entertained anytime I watch them.
How often do you go to the movies?
About once a month except during the Hawaii International Film Festival,where I watch a movie almost every day.
Which is your favorite movie theatre to go to?
Ward Theatres. Free parking and it's in town
Who's your favorite movie buddy?
My wife. I love watching movies with her and talking about the movie after it is done.
What genre of movies do you like?
I like anything except horror movies. I also enjoy watching movies from Japan.
Who's your favorite actor/actress? Why?
Favorite actor is Tom Cruise.He makes really good movies and has been doing it for more than 25 years.Favorite actress is Jennifer Aniston. She is beautiful, talented and funny. She needs to find better movie roles though, I would love to see her in an action/comedy film one day.
I'd like to thank KHON as they continue to play Friends reruns.
What's new with you and your business?
Just completed organizing another successful Waikiki Spam Jam street festival and supported the Waikiki by Moonlight festival last week Friday.I am now working on the first annual International Waikiki Hula Conference this November, and also trying to help the organizers of the Okinawan Festival,which makes 25 memorable years, so they've got some big plans ahead for 2007.
Most Recent Comment(s):