Wednesday - July 26, 2006
By
.(JavaScript must be enabled to view this email address)

Movies Showtimes
Share

Pirates Of The Caribbean: Dead Man's Chest
Movie Review with Bid Koa
Hot 93.9FM Radio Personality
As Told To Melissa Moniz
Where and with whom did you see the movie?
I saw the movie with my wife Chevy at Ward Theatres.
Overall what did you think of the movie?
I thought the movie was really funny. I thought Johnny Depp played an excellent character.
Did you go in with any expectations? And if so, did it meet your expectations?
Oh, yeah, it did.You know how the second movie doesn't turn out as good as the first one? But this one definitely did a good job.
If you had to compare the first Pirates of the Caribbean movie to this sequel, which movie would you say is better?
I would have to say the first one is the better movie. I always like the first of every movie.The first one sort of caught you off guard,like whoa,who's this drunk pirate? In this one he did a good job, though. It was definitely good.This one they added a little more comedy to make sure that it's better than the first one.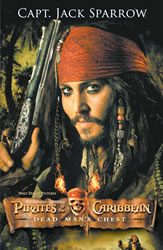 What did you think of the special effects?
The special effects were pretty good.They did a good job with it.You could tell they did a lot of computer stuff in there, but still it was really good.
So did it look realistic or fake?
Some stuff was pretty realistic, but then it kind of turns into the mummy scene where they are fighting and running through the forest.
Is it a movie that you would see again?
I would probably have to wait until it came out on DVD. It was a little long for me. I forgot to bring my butt pillow.
To whom would you recommend the movie?
For families with kids over 5.
So it wasn't too violent?
No, no, no. It wasn't too violent. Not worse than what they already do.
In a four star rating, with four being the highest, what would you rate it?
I would probably rate it a Three stars.
Who was your favorite character in the movie?
Of course, Johnny Depp.
Do you like Johnny Depp as an actor in general, or do you just like him in this movie?
Probably just this movie. I haven't seen him too much except Edward Scissorhands and I didn't really like that one.And I didn't really like him in What's Eating Gilbert Grape.
What's your favorite movie snack?
Popcorn with M&M's. I usually throw my M&M's in it and mix it all up. I like chocolate and popcorn together.
What's your favorite movie?
Lord of the Rings 2. I've seen it like a few hundred times. Well, maybe not that much. Maybe like 40 times.
How often do you go to the movies?
Not too often at all.This is probably

the first movie I've been to in maybe over six months.I don't go to the movies that much. I usually wait for it to come out on DVD.
Who's your favorite actor or actress?
I don't really have one. Actress,I would have to say Jessica Alba.
Is that based on her acting or based on her looks?
(laughs) OK,I would have to say based on her looks.
What's new with you?
We're expecting a new baby on the way, so that will make three for me in late August, early September.
As far as the studio goes, I'm always trying to do bigger and better things,and I'm trying to kick off a production company so I can throw some parties. So I'm trying to step into the club industry. With radio, I'm still doing the night
Next week: a new movie, a new celebrity
Most Recent Comment(s):