Wednesday - August 26, 2009

Movies Showtimes
Share

Eric Curtis
Disease Specialist, Waikiki Aquarium
as told to Kerry Miller
Where and with whom did you see the movie?
I went to Ward Theaters and ended up going by myself.
Overall, what did you think?
I actually liked it. I went there with no idea what it was about. I was totally open to it,I ended up leaving feeling good about the film. I definitely liked it.
Were there any recognizeable actors doing voices of the characters, if so was there anyone who stood out to you?
That was the interesting thing.
The mother character I suddenly realized,'Hey, that's Tina Fey!'
I thought she did a really good job.Liam Neeson,I love him.He's a great actor, but the character he was portraying was a little crazy to me,, something was a little off, but maybe that's me.The Tina Fey character did a really good job.
What did you think of the animation?
It was all, I believe, hand-drawn not CGI, what you're typically seeing more and more of now adays. It's basically anime. It was really neat.There were parts of it,one scene where Ponyo is pounding on some waves.Seeing that and listening to the soundtrack, it was a very moving point in the film. I was kind of blown away with that. Maybe it was seeing it on the large screen.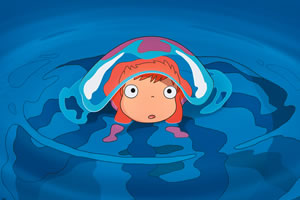 How would you describe the story? Was it kid-friendly? Did it have any kind of a message attached to it?
It was definitely kid-friendly.I think my niece and nephew would like it.They could get some inspiration from it.The characters seem independent and strong,and they make good decisions.
Did the movie profile any type of sea creature or sea life that you're familiar with from working at the aquarium?
The director and the animator decided to go with these prehistoric fish. In the opening sequence they've got plankton, zooplankton, all these different animals.Then you start seeing little prehistoric fish.I thought it was interesting to watch that.
Did you have a favorite character or scene?
My favorite scene was when the little boy and his mom were driving, racing these big waves, and Ponyo, the little girl who's running on these waves, where it's the music,the visuals and everything else - to me that was where everything kind of came together.
On a scale of 1-4 stars, what would you rate this movie?
I think for little kids or even adults who can let go of any preconceived notions and just sit there and enjoy the visuals and the music, I'd give it a ★★★.I think younger kids would like it.And anybody who can just let their inner kid come out.
What's your job at Waikiki Aquarium?
I'm the disease specialist. If any animals have any issue, I try to figure out what's going on. We're really lucky, we're fairly stress-free and don't have many issues. I like my job, I like the aquarium; it's kind of like a unique situation. The aquarium has these animal ambassadors who are there to represent themselves and their environment,and people come and see it.We provide the opportunity for the two to come together.
Most Recent Comment(s):