Wednesday - May 25, 2011
By
.(JavaScript must be enabled to view this email address)

Movies Showtimes
Share

Tiffany Thurston
Christian Recording Artist
Where did you see the movie and with whom?
I saw it at Ward Theaters in 3-D with my parents and dear friend Dawn!
Overall, what did you think?
This movie surprised me! I'm typically a romantic comedy movie-goer but Priest was just the opposite of that, being a sci-fi/action movie. It had a lot of depth in its message, and though dark, it was very hopeful. Seeing it in 3-D rocked!
On a scale of one to four stars, how would you rate this film?
I give it ★★★ 1/2.
Was the message/theme of the film clear?
Yes. There are forces of evil in this world and the priests drew their strength from God. It's a
message/theme of faith, good vs. evil, and believing in something even when it means going against the grain. Sometimes following your gut is the best thing you can do even when you're the only one!
Did you identify with any of the characters?
I did. The main character, Priest, played by Paul Bettany (also known for the lead in the movie Legion) is at war within himself and with the rules of the church, to which the entire city is subject. When a loved one is kidnapped, he wants to go and save the loved one, but is not given permission to do so and is threatened to with ex-communication if he goes against their will. He has to make a decision to follow his heart or follow what seems to be a controlling hierarchy. I relate to the Priest in that I've felt that same war within me. Do I follow my heart (gut) or follow the crowd or what others are telling me? All that's to say being brave isn't always easy.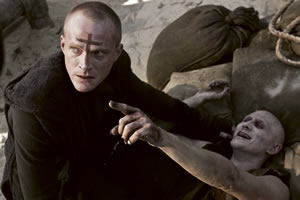 Did it remind you of any other work in film?
If 28 Weeks and The Matrix had a baby…it might look a little like Priest.
Would you recommend this movie, and to whom?
I would! If you are a scaredy-cat, bring a friend, and if you don't typically watch sci-fi movies like me, I'd give it a try ... it just might surprise you!
Would you buy this movie when it comes out on DVD?
Yes, I would.
On a different note, what's new with you?
I just finished leading worship on a 12-week, 12-city arena tour with an event called "The Revolve Tour" where more than 60,000 teenage girls were in attendance! It was an amazing experience and a phenomenal event that encourages and inspires teen girls across the U.S.! I am currently home in Hawaii hanging with family ,and led worship at New Hope Diamond Head May 21 and 22. Go to NHDH.org for more info and to see photos from the services! Also, both of my records are on iTunes or you can check them it out at TiffanyThurston.com or keep up with me on Twitter (@tiffanythurston) and Facebook (facebook.com/tiffanythurstonfanpage)! I'm headed back to Nashville to continue touring, and am working on new music as we speak! It's great to be back home for a little bit, see family and friends, and enjoy local kine grinds.
There's no place like home!
Most Recent Comment(s):