Wednesday - November 09, 2005
By
.(JavaScript must be enabled to view this email address)

Movies Showtimes
Share

Prime
Movie Review with The Girlas
Kelli, Tiffa, Candy & Carly
As Told To Katie Young
Where and with whom did you see the movie?
Kelli: I saw Prime with THE GIRLAS at Dole Cannery Theatres.
Overall what did you think?
Kelli: Prime was very enjoyable to watch. It was funny and sincere, and the love story didn't seem outrageous. I like that it addressed the older woman/younger man taboo in a somewhat positive light. Also, the soundtrack is definitely worth listening for.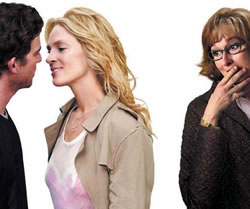 What was your favorite scene?
Tiffa: I like the scene where Morris gets a pie in the face toward the end of the film. It was very ironic and very funny.
Did you have a favorite character? Candy: My favorite character in the film was David. At the same age, I am better able to relate to the character because he shares the qualities that come somewhat standard with being young and being an artist. I liked that he went after something he wanted (Rafi, Uma's character), disregarding the absurdities expressed by his family and friends through their differences in age and religion. On top of that, he had a good sense of humor, somewhat a rascal if you could even call him that. I have an affinity for rascals.
How would you rate the acting?
Carly: When I watched the movie I could definitely tell which of the actor/actresses have been around for a while. Like Meryl
Streep, an obvious veteran when it comes to the big screen.
Also, Uma Thurman had a comfortable way about her in all the scenes. Bryan Greenberg, the rookie, surprised me in his acting skills. All around I thought the acting was great. They played their parts well.
Did the movie have a meaning?
Kelli: What I got out of the film is a portrayal of the reality of love. Love can be a beautiful and powerful thing in itself, but the circumstances and timing are wrong, love itself isn't enough to make those things right. Also, it is important to realize that even your therapist needs therapy.
What was the best/worst aspect about the movie?
Tiffa: The best aspect of the movie was that the mother-and-son relationship made me think of me and my mom. Even though they had major disagreements, she let him live his life. The family connection was very realistic. The worst aspect was there was one mushy scene that seemed to stick out that I didn't like.
Is it a movie that you would see again? Candy: If there were 43 alternate "one-year-later" endings, I'd see it each time from beginning to end. But because I'm a sucker for fairy tale endings, watching this movie once seemed to hit the spot perfectly.
To whom would you recommend the film?
Carly: Tiffa's mom, my Aunt Maggie. She's a pastor on the Big Island and the mother in the movie reminds me of her. She likes the romantic comedies as well.
On a four star rating, with four being the highest what would you rate the movie?
Kelli: Three Stars
What's your favorite movie snack? Kelli: Popcorn with lots of butter and mochi crunch and a large Coke icee. I have an extra stomach just for popcorn.
Carly: I love red licorice! It's the best.
Candy: I love buttery, salted, hot popcorn with furikake or nutritional yeast sprinkled on it. Kettle corn is even better.
Tiffa: Reese's Peanut Butter Cups.
What's your favorite movie?
Kelli: Lord of the Rings is a pretty epic tale. If CSI was a movie, it would be my favorite movie.
Carly: A Knight's Tale. I love Heath Ledger and I'm a sucker for romance.
Candy: My favorite movie is The Birdcage. Robin Williams and Nathan Lane deliver the most comical of performances in this film. The one-liners are abundant and the humor is so enjoyable. Despite Williams and Lane being such great stars in this film, Hank Azaria who plays the role of the "butler" seems to bring such effortless humor to the film, as if making it that much funnier were even possible.
Tiffa: Juwanna Mann because it is the funniest movie I've ever seen in my life. It's non-stop humor.
Who's your favorite actor/actress? Kelli: Tiffa Cruz ... she can put on quite a show.
Carly: Angelina Jolie, she is my idol on and off the screen.
Candy: Adam Sandler and Drew Barrymore. Coincidentally, both have starred in films together. My reason for liking both is the same, they manage to retain some of their own personality when playing whatever character it is that they are given. It's nice to see people being people.
Tiffa: Johnny Depp because he is the master of diversity. And he's hot.
What's new?
We are currently working on our studio album at Studio JAV, which is due out before the end of 2005, titled Now or Never, and it features original songs from all of the Girlas. We are also filming a short profile piece for Hawaiian Airline's In Flight entertainment which will air in early 2006.And we are "keeping it roots," gigging at our favorite `awa bar, Hale Noa, every Saturday from 9 to 11:30 p.m.
The Girlas have been a group since June 2005, but have been jamming together and separately since the good old days. Candy Diaz is a free-lance video editor and website designer, and has plans to become a care-home operator, and a tea shop owner. She also designed and maintains thegirlas.com. Tiffa Cruz works for and attends Pacific Rim Bible College and has aspirations in ethnomusicology. Carly Smith decided long ago that playing music is where it's at, and in the meantime has become a carpenter, mason, drywall installer, cashier, handy-woman and bass player extraordinaire. Kelli Heath has no full-time job - just a handful of part-time jobs as a sound designer for the City and County's Talk Story Radio, music production teacher at Halau Ku Mana, producer for The Girlas, and space cadet (only on the weekends, though).
Next week: a new movie, a new celebrity
Most Recent Comment(s):