Wednesday - June 09, 2010
By
.(JavaScript must be enabled to view this email address)

Movies Showtimes
Share

Debbie Hedrick,
Director of Sales/Marketing for Creative Solutions, and husband Todd
Where and with whom did you see the film?
I saw it at Koko Marina 8 with my husband Todd, my daughter Sammy and my son Noah.
Overall, what did you think?
It was good - much better than I expected.
On a scale of one to four stars, what would you rate Prince of Persia: The Sands of Time?
I would give it ★★★ , because it's made for all ages, which was nice. It was good, clean, adventurous, action-packed fun all around.
How was the cinematography?
That was probably the most impressive part of the whole movie.
The sand tunnels and sand surfing were really cool, adventurous and very well done.
Was the storyline easy to follow?
Yes, because they were definitely thinking of all age groups that would attend. Recurring themes like good vs. evil and the use of great power were easy to get. It made it clear that if you're true to your conscience and true to your family, you'll always win in the end. No matter how hard things get, they can always turn around.
Without giving away the ending, what was one of your favorite scenes?
I loved the scenes where Jake Gyllenhaal was doing a lot of acrobatics through the towns, running over rooftops and jumping all over the place. He did a lot of his own stunts, and it was very impressive.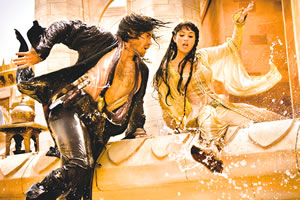 Did it remind you of any other work in film?
It was Indiana Jones meets Star Wars meets action, action, action. It definitely took parts from lots of different movies, even down to the scenery.
To whom would you recommend this movie?
I'd actually recommend it to families. It's great for all age groups, so if you just want to see an action flick with lots of adventure, it's perfect.
On a different note, what's new with you?
Creative Solutions is now working with Pearlridge Center on the upcoming Dinosaurs exhibit set to debut June 18 through Aug. 15, and we're doing all the visuals and props for it. These are just gigantic, life-size moving dinosaurs that the whole family will love, so definitely go check it out!
Most Recent Comment(s):