Wednesday - May 26, 2010
By
.(JavaScript must be enabled to view this email address)

Movies Showtimes
Share

Mona Bernardino
Executive Director, Hiilei Aloha LLC
Where and with whom did you see the film?
I went to Ward with my friend Susan.
Overall, what did you think?
I thought it was nice to see Hawaiian history on the big screen in wide dissemination. Some parts were difficult to watch, as it was very emotional, and I think knowing our history and seeing it acted out in front of me had a bit more impact. I wondered if they were accurate about Kaiulani's personality, though, but overall it was very interesting.
On a scale of one to four stars, what would you rate Princess Kaiulani?
I would give it ★★★. I think everyone in Hawaii should watch it. It is important for people who make Hawaii their home to understand this period of time in our history.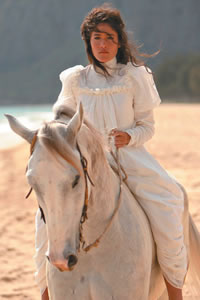 What about the acting? Did anyone stand out?
I thought the acting was great, especially the gal who played Kaiulani (Q'orianka Kilcher). I could tell she wasn't Hawaiian by her hula dancing, though (laughs). But overall she did an outstanding job.
Do you believe the storyline to be historically accurate?
I think the overthrow part of the storyline was,but I'm unsure of the part where she went to England.I'm sure her father thought he was doing what was best for her, but to take her so far from home would crush almost any Hawaiian.
How was the cinematography? I understand it was originally presented at the 2009 Hawaii International Film Festival.
It's difficult to say. It had elements of both a documentary and a feature film,and I'd guess it was a lower-budget film, unless that was the producer's intention.
To whom would you recommend this movie?
I'd recommend it to anyone who wants to know America's history, because this is a part of history that's not always taught or shared.
Did it remind you of any other work in film?
I found myself at times thinking of Pocahontas, mostly in reference to the name of the film. If it had been called "Barbarian Indian Girl," would it have had the same impact? I say that because I never personally objected much to the other title of the film, Barbarian Princess, because I trusted that the directors would portray her as exactly the opposite and therefore play on irony.
Do you think audience members could relate to the characters or storyline?
Oh,yes.There were reactions,for sure.People would gasp or laugh or kind of growl (laughs) at some parts, but I could tell that some people didn't know what was coming historically when the story ended.They don't physically show her death, just put it in text on the screen at the end, and I heard people gasp, so obviously people didn't know. I just hope it inspired some of them to go home and brush up on their Hawaiian history.
On a different note, what's new with you?
The company I work for, Hiilei Aloha LLC, is a subsidiary of the Office of Hawaiian Affairs, and we advocate strongly for passage of the Akaka Bill, which would give Hawaiians the same political status as American Indians and Alaska Natives, if passed. We feel that it is disengaging to ignore our history and our heritage, and we just want our people to have more autonomy in terms of steering education, housing, etc.
Most Recent Comment(s):